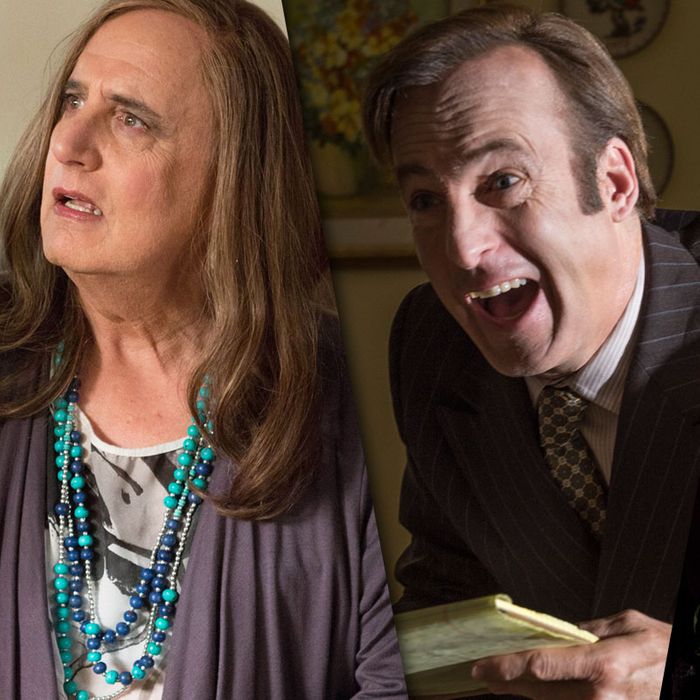 A favorite, a pleasant surprise, and a (cloned?) dark horse.
Photo: Amazon, AMC, BBC America
Every year, critics practically cut-and-paste their standard reaction to the Emmy nominations — something along the lines of, Why are you so boring, Emmys? Many years, that reaction fits fine. But not this year. This time around, there are a lot of breakthroughs and surprises to accompany the tedious usual ones (Modern Family for best comedy again, really?). There's also increased acknowledgment that the word television is becoming amorphous. More and more notable series originate on streaming services rather than on broadcast networks or cable channels. The overall effect of these nominations is to paint a portrait of a medium that is in the process of remaking itself, against its will in some ways, and that has no idea what the finished picture will look like.
For drama, the prevailing question is: Where the hell is Empire? Beyond its musical and cultural noteworthiness, it was the biggest ratings success of any new network drama, and it's about as satisfying as a family soap can be. It might've been nice to have Masters of Sex or Outlander in there as well, and The Americans and Justified, but now I'm just listing my own fantasy Emmy nominations card, so I'll stop. Orange Is the New Black is as much a comedy as a drama (you could say the same about Louie, which is up in the comedy category), but that's how Netflix chose to submit it; I'm glad to see it up for major awards again, this one included. It's on track to be one of the great comedy-dramas.

The formidable Viola Davis got a nomination for her terrifyingly committed work in How to Get Away With Murder. She's in the same category with Taraji P. Henson, who's so funny and charming and outrageous and altogether wonderful on Empire that I feared she'd be overlooked, and Tatiana Maslany of Orphan Black, who deserves to have won 12 or 15 or 20 Emmys by now. All three are exciting nominees for demographic as well as artistic reasons. Claire Danes of Homeland and Robin Wright of House of Cards aren't poor choices — in fact, they're consistent bright spots on their series — and Elisabeth Moss of Mad Men is obligatory but deserved, but these actresses' presences here still feel rote. Keri Russell of The Americans, a near-shutout in major categories, should've claimed one of their spaces.

In the dramatic-actor category, Jon Hamm of Mad Men is an obvious choice, but merited, like his co-star Moss. He feels like a front-runner; he's never won despite multiple nominations, and the show finished its six-season run this year. But we've also got Bob Odenkirk for Better Call Saul (I did not expect this because the show is so tonally difficult to pigeonhole), Liev Schreiber for Ray Donovan (a first-timer in this category, and immensely appealing on a hit-and-miss series), and — in maybe the biggest surprise — Kyle Chandler for Bloodline, a Netflix series that viewers seemed to agree was less than met the eye, one that was dominated by his co-star Ben Mendelsohn, who gave one of the most endlessly surprising performances I've seen by a male actor in a couple of years. Mendelsohn got nominated in the supporting category, but I think he should have been considered the show's other male lead. The repeat nomination for Jeff Daniels for The Newsroom continues to puzzle (has there been anyone who said, "Yes, he was great in that, one of the best actors on TV"?) and Kevin Spacey for House of Cards is an "of course," though at least Spacey is lively and funny. I would have liked to have seen Matthew Rhys for The Americans and Timothy Olyphant and/or Walton Goggins for Justified (the latter should've been a shoo-in for supporting), but, hey.

For best comedy, my heart belongs to Amazon's Transparent, though it's nice to see Netflix's Unbreakable Kimmy Schmidt (the series that launched a thousand think pieces using the word problematic) in there, along with the late, great Parks and Recreation, and Silicon Valley.

For best actor in a comedy I'm rooting for Jeffrey Tambor, the probable winner for Transparent, or Anthony Anderson of Black-ish, who could be a Jackie Gleason for the 21st century if he plays his cards right. For best actress, I can't choose between Lisa Kudrow for The Comeback, Lily Tomlin for Gracie and Frankie, Amy Poehler in her final season of Parks and Rec (she's been nominated twice but hasn't won), or, hell, anyone else, they're all excellent (including Edie Falco for Nurse Jackie, a show I never warmed to but that consistently gave her a chance to shine). Here, as in the drama categories, you get a clear picture of a changing medium: The awards are divided rather democratically between big broadcast networks, niche cable channels, and streaming services.

In the dramatic supporting categories, there isn't a single weak link. I like Jonathan Banks for Better Call Saul and Christina Hendricks for Mad Men. In the guest-actor category, I'm partial to Cicely Tyson on How to Get Away With Murder and Margo Martindale on The Americans, and on the XY side, Pablo Schreiber for Orange Is the New Black (a hoot) and Reg E. Cathey for House of Cards (a pleasant surprise for a reliable but consistently underappreciated actor). Ditto supporting actor and actress, comedy: Gaby Hoffmann for Transparent, Allison Janney for Mom, and Keegan-Michael Key for Key & Peele are my pets here (though Key and his partner, Jordan Peele, should've both been up; week in and week out, they're doing Peter Sellers–level work). The supporting categories tend to be embarrassments of riches, and this year's crop did not disappoint.

The Academy membership's continuing failure to pay proper tribute to a show like The Americans is predictable and saddening but perhaps understandable: Shows as tonally or aesthetically daring as those tend to get ignored year after year because the membership just can't stomach them. Maybe at some point they'll get onboard with Showtime's Penny Dreadful, which is sort of like a horror version of The League of Extraordinary Gentleman, but really good; or at least they'll give a nomination to Eva Green, who's basically Joan Crawford trapped in the body of a Vargas girl. But there I go, describing an ideal world again.