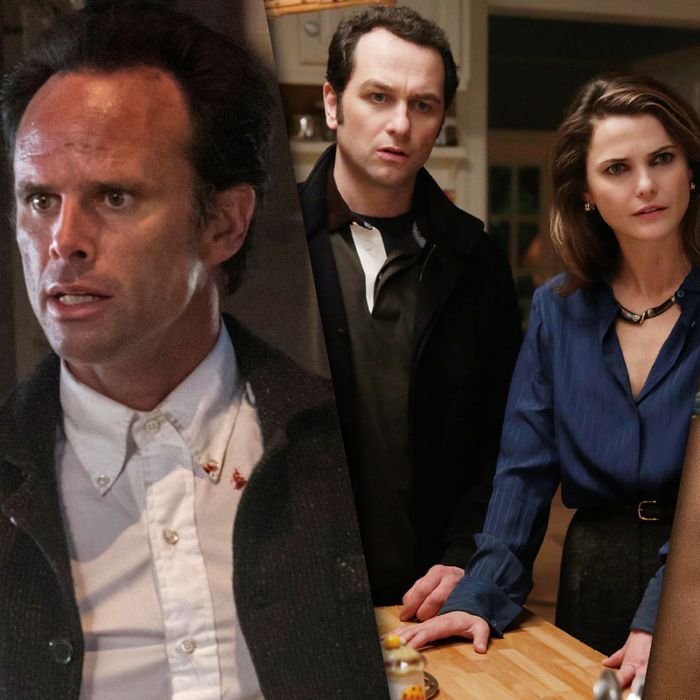 It's Emmy nomination day! So full of joy, so full of disappointment; truly a bonanza of emotions for any TV fan. Even though this year brought several pleasant surprises, there are of course some snubs. Let's go category by category and really let that sense of indignation snowball.
Outstanding Comedy Series
Louie
Modern Family
Parks and Recreation 
Silicon Valley
Transparent
Unbreakable Kimmy Schmidt
Veep
Man, Modern Family, you are taking up a spot that belongs to someone else. Any of these shows, for example: The Comeback, Fresh Off the Boat, Getting On, Girls, Jane the Virgin, Looking, The Mindy Project. Good grief.
Outstanding Drama Series
Better Call Saul
Orange Is the New Black
Game of Thrones
Downton Abbey
Homeland
House of Cards
Mad Men
For starters: The Americans. Do the Emmys not know The Americans exists? Boardwalk Empire, The Good Wife, Empire, Justified, The Knick, The Leftovers, and Rectify all belong on the list before this most recent season of Downton Abbey. And House of Cards.
Outstanding Limited Series
American Crime
American Horror Story: Freak Show
The Honorable Woman 
Olive Kitteridge 
Wolf Hall
Two real oversights here: The Book of Negroes and The Missing. But Olive Kitteridge is going to win anyway, so.
Outstanding Television Movie
Agatha Christie's Poirot: Curtain, Poirot's Last Case
Bessie
Grace of Monaco
Hello Ladies: The Movie
Killing Jesus
Nightingale
No snubs, really. But no real winners here, either.
Outstanding Lead Actor in a Mini-series or Movie
Richard Jenkins, Olive Kitteridge
David Oyelowo, Nightingale
Adrien Brody, Houdini
Mark Rylance, Wolf Hall
Ricky Gervais, Derek
This is sort of a weird category, so the only real oversight is James Nesbitt in The Missing. Kiefer Sutherland was eligible for the 24 revival, but that doesn't feel like a snub-snub.
Outstanding Lead Actress in a Mini-series or Movie
Maggie Gyllenhaal, The Honorable Woman
Jessica Lange, American Horror Story: Freak Show
Felicity Huffman, American Crime
Queen Latifah, Bessie
Frances McDormand, Olive Kitteridge
Emma Thompson, Sweeney Todd: The Demon Barber of Fleet Street Live From Lincoln Center
Another underwhelming category. Somehow overlooked? Allison Williams in Peter Pan Live! She's gotta crow, etc.
Outstanding Lead Actor in a Comedy Series
Louis C.K., Louie
Don Cheadle, House of Lies
Jeffrey Tambor, Transparent
Anthony Anderson, Black-ish
Will Forte, The Last Man on Earth
Matt LeBlanc, Episodes
William H. Macy, Shameless
Some people probably expected one last nomination for Jon Cryer for Two and a Half Men, and, given that he won last year, Jim Parsons for Big Bang Theory. Nick Kroll, Thomas Middleditch, Andy Samberg, and Adam Scott would all have been welcome additions to the ballot, too.
Outstanding Lead Actress in a Comedy Series
Julia Louis-Dreyfus, Veep
Edie Falco, Nurse Jackie
Lisa Kudrow, The Comeback
Amy Poehler, Parks and Recreation
Amy Schumer, Inside Amy Schumer
Lily Tomlin, Grace and Frankie
This is a really robust category, so of course some people will inevitably be left out, but there are a few surprising omissions here: Lena Dunham for Girls (she was nominated for the previous three years), Ellie Kemper for Unbreakable Kimmy Schmidt, Gina Rodriguez for Jane the Virgin, and Constance Wu for Fresh Off the Boat. Plus, either or both Ilana Glazer and Abbi Jacobson for Broad City.
Outstanding Lead Actress in a Drama Series
Claire Danes, Homeland
Viola Davis, How to Get Away With Murder
Taraji P. Henson, Empire
Tatiana Maslany, Orphan Black
Elisabeth Moss, Mad Men
Robin Wright, House of Cards
The shock of Tatiana Maslany finally landing a nomination might never wear off, but on the snub side, the most glaring is Keri Russell for The Americans. (A theme this year!) It's surprising not to see Julianna Margulies for The Good Wife or Kerry Washington for Scandal, and a bummer not to see Lizzy Caplan for Masters of Sex. Eva Green was a long shot, but someday, someone is going to have to recognize her work on Penny Dreadful.
Outstanding Lead Actor in a Drama Series
Jon Hamm, Mad Men
Kevin Spacey, House of Cards
Bob Odenkirk, Better Call Saul
Jeff Daniels, The Newsroom
Kyle Chandler, Bloodline
Liev Schreiber, Ray Donovan
This was the last chance for Steve Buscemi to get nominated for Boardwalk Empire (he was previously nominated in 2011 and 2012) and Timothy Olyphant for Justified, which is a bummer on both counts. The biggest snub, though, is Matthew Rhys for The Americans, followed by Aden Young for Rectify. Finally, Michael Sheen for Masters of Sex and Justin Theroux for The Leftovers would both have been welcome nominations. I'm sure Jeff Daniels is a mensch, but come on.
Outstanding Supporting Actor in a Drama Series

Jonathan Banks, Better Call Saul

Jim Carter, Downton Abbey

Alan Cumming, The Good Wife

Peter Dinklage, Game of Thrones

Michael Kelly, House of Cards

Ben Mendelsohn, Bloodline
This is probably a tighter race than lead actor, honestly, which means there are a ton of people who got left out: Mandy Patinkin, for example. In keeping with the theme of exclusion, Noah Emmerich for The Americans. No one from Justified? Not Jere Walker, Garret Dillahunt, Sam Elliott, or, especially, Walton Goggins? What about anyone from Mad Men, particularly Vincent Kartheiser or John Slattery? Matthew Lillard for The Bridge, Joe Morton for Scandal, Sam Neil for Peaky Blinders, and Michael Kenneth Williams and Jeffrey Wright for Boardwalk Empire all deserve nominations, too.
Outstanding Supporting Actress in a Drama Series
Uzo Aduba, Orange Is the New Black
Christine Baranski, The Good Wife
Emilia Clarke, Game of Thrones
Joanne Froggatt, Downton Abbey
Lena Headey, Game of Thrones
Christina Hendricks, Mad Men
Man, supporting categories are tough: There are so, so many strong performances across a variety of styles that deserve recognition. This could have been all actresses from OITNB, honestly: Danielle Brooks, Laverne Cox, Natasha Lyonne, Kate Mulgrew, Barbara Rosenblat, Lorraine Toussaint, Samira Wiley. Adelaide Clemens for Rectify, Carrie Coon for The Leftovers, Danai Gurira and Melissa McBride for The Walking Dead — those performances are all fantastic. Hell, Hayden Panettiere could win a special award for being the only one going for it on Nashville. And where would we be without The Americans getting overlooked? Sorry, Alison Wright.
Outstanding Supporting Actress in a Comedy Series

Julie Bowen, Modern Family

Mayim Bialik, The Big Bang Theory

Anna Chlumsky, Veep

Gaby Hoffmann, Transparent

Jane Krakowski, Unbreakable Kimmy Schmidt

Allison Janney, Mom

Kate McKinnon, Saturday Night Live

Niecy Nash, Getting On
Merritt Wever has won for her work on Nurse Jackie, and she was as terrific as usual this season. Not snubs so much as, "Oh, that would have been nice": Melora Hardin for Transparent, Eden Sher for The Middle.
Outstanding Supporting Actor in a Comedy Series

Andre Braugher, Brooklyn Nine-Nine

Adam Driver, Girls

Keegan-Michael Key, Key & Peele

Ty Burrell, Modern Family

Tituss Burgess, Unbreakable Kimmy Schmidt

Tony Hale, Veep
Another really packed category. Several Parks and Recreation actors would seem to qualify here, but most especially Nick Offerman. Ike Barinholtz on The Mindy Project is at least as good as Ty Burrell; Jaime Camil continued Jane the Virgin's tragic shut-out. Jay Duplass on Transparent, T.J. Miller and Zach Woods on Silicon Valley. And while the show itself was a little thin, Steve Zissis was wonderful on Togetherness.
Outstanding Guest Actor in a Comedy Series

Mel Brooks, The Comedians

Louis C.K., Saturday Night Live

Paul Giamatti, Inside Amy Schumer

Bill Hader, Saturday Night Live

Jon Hamm, Unbreakable Kimmy Schmidt

Bradley Whitford, Transparent
Looking came up empty this year, but Scott Bakula deserved a nod for his role as Lynn. Jimmy Florentine was wonderful as the ill-fated comic on the haunting season finale of Louie, and the Rock was a very worthy SNL host. Lee Pace was all kinds of weird and wonderful on The Mindy Project, as was Zachary Quinto on Girls.
Outstanding Guest Actor in a Drama Series

F. Murray Abraham, Homeland

Alan Alda, The Blacklist

Beau Bridges, Masters of Sex

Reg E. Cathey, House of Cards

Michael J. Fox, The Good Wife

Pablo Schreiber, Orange Is the New Black
Dylan Baker is always superb on The Good Wife, and Matthew Del Negro brought surprising warmth to his scheming sex-worker role on Scandal. And then there's a whole slew of Mad Men performers who didn't make the cut to supporting and should have been nominated in guest: Christopher Stanley and Aaron Stanton, and maybe even Trevor Einhorn. His Mathis was the only underling to put Don in his place.
Outstanding Guest Actress in a Comedy Series

Pamela Adlon, Louie

Elizabeth Banks, Modern Family

Christine Baranski, The Big Bang Theory

Joan Cusack, Shameless

Tina Fey, Unbreakable Kimmy Schmidt

Gaby Hoffmann, Girls
These aren't major oversights, but Rhea Perlman is always terrific on The Mindy Project, and Michaela Watkins was heartbreaking on Transparent.
Outstanding Guest Actress in a Drama Series

Khandi Alexander, Scandal

Rachel Brosnahan, House of Cards

Allison Janney, Masters of Sex

Margo Martindale, The Americans

Diana Rigg, Game of Thrones

Cicely Tyson, How to Get Away With Murder
A few minor snubs, and one big one: Alison Brie as Trudy on Mad Men, Julianne Nicholson on Masters of Sex, and Carrie Preston on The Good Wife could all have made the list, but Kiernan Shipka on Mad Men 100 percent should have.