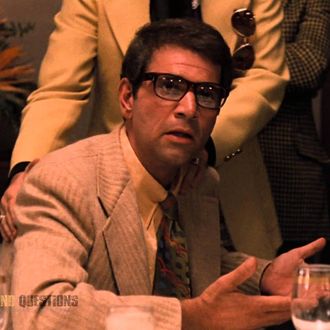 Actor Alex Rocco died of cancer this weekend at the age of 79, Variety reports. Rocco went from being a "wannabe gangster" as a kid in a rough Boston neighborhood to playing an actual gangster in Francis Ford Coppola's classic film The Godfather. The actor, who trained under Leonard Nimoy in the 1960s, starred in dozens of films and TV shows and won an Emmy Award in 1990 for his turn as a Hollywood agent in The Famous Teddy Z. Though he had a career replete with roles as heavies, thugs, cops, and entertainment big shots, he remains best known for his performance as Las Vegas casino owner Moe Greene in The Godfather. Greene's untimely demise at the behest of Al Pacino's Michael Corleone during the baptism/murder climax — one of the great scenes of American cinema — signifies the changing of the regime, as Michael literally and symbolically becomes the Godfather. Rocco brought a slick, smooth-operating quality to Greene, whose plaid sports jackets and unkempt hair stand in stark contrast to Michael Corleone's gleaming side-part and impeccable black suits. It's a brief part, but Rocco nonetheless made Moe Greene as memorable as any of the other side players in the iconic film. The way he saunters into the room without breaking stride, raising his arms in embrace and shouting, "Hey, Mike!" displays a self-assuredness that helps define not only Greene, but Michael as well.
According to a 2011 interview, Rocco didn't seem to mind that he was often typecast as bad guys and gangsters:
Whatever pays, that's great. I like comedy and I like gangsters. I always had trouble with love scenes. I'm so insecure. But playing gangsters is great. They usually dress you sharp. And you have a license to pretty much bully anybody. I mean, I wouldn't dare do that at home. My wife will give me a back hander. So doing it at work is a great release – it saves you all that money at the shrink.