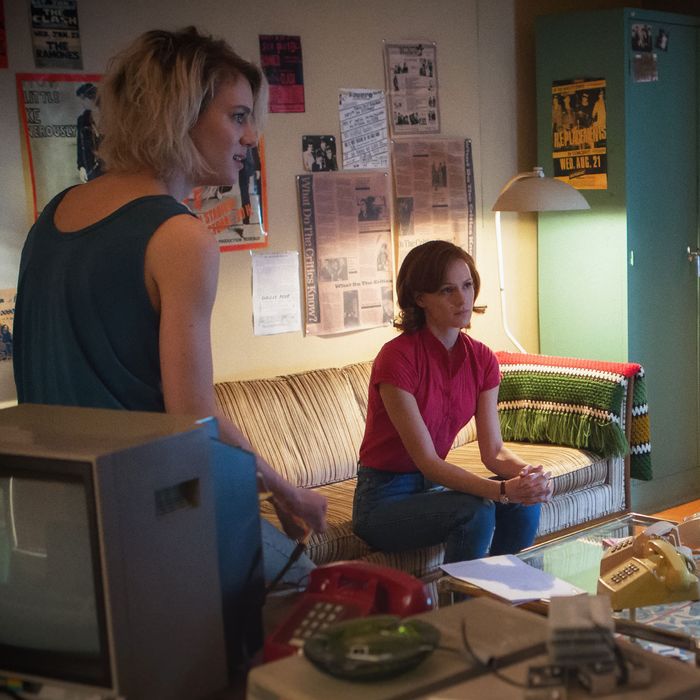 Mackenzie Davis as Cameron Howe, Kerry Bishé as Donna Clark, and Lee Pace as Joe MacMillan.
Photo: Annette Brown/AMC
In the early days of the birth-control movement, Planned Parenthood co-founder Margaret Sanger spoke often about the idea of "voluntary motherhood" being a fundamental element to the idea of equal rights for women. At the time the thought was revolutionary, this notion that women should be free to choose when and if they get pregnant, and Sanger rightly saw the movement as a way for women of every class and creed to have autonomy over their own bodies.
This idea of voluntary motherhood is one that's weighed heavily on the second season of Halt and Catch Fire, with the issue finally coming to a head in "10Broad35." The opening scenes show us Donna confiding in her mother that she was pregnant and had miscarried, and that Gordon was none the wiser. Donna's mother was empathetic and anxious to comfort her daughter, but Donna would have none of it, going on to speak at great length about how it was likely for the best, that their family felt finished, that it wouldn't have been fair to anyone involved, and it suddenly becomes clear that Donna hasn't miscarried at all. She's merely rehearsing the lie.
By episode's end, we see Donna and Cameron pull into the parking lot of a Texas Planned Parenthood, where they sit and contemplate what's about to happen. Cameron assures Donna that she doesn't have to do this for the Mutiny, that the company likely won't be around long enough to make such a sacrifice for, but Donna isn't doing this for Mutiny, not really. Donna is doing this for herself.
Donna's choice to have an abortion while married isn't unprecedented (Grey's Anatomy did a similar story line), but the choice is bold if only because Donna has always unquestionably been the grounded, rational heart of the entire series. To see her making a choice that so many would categorize as selfish and do so purely because she believes it is the right thing for her family and herself is the height of both complex and nuanced storytelling. Donna makes her choice because she wants to retain control of her body and her fate and her future while simultaneously looking to do damage control with regards to whatever the future holds for her family.
But one thing that Donna's decision has in common with so many of her Halt and Catch Fire counterparts is the idea that the action she takes is based out of need and not out of want. Donna doesn't need to have an abortion, she wants one. Similarly, while visiting his brother in California, Gordon doesn't need to sleep with an old high-school classmate before pouring his heart out to her about not being able to talk to his wife, he wants to. When trying to work out a new contract for Mutiny at Westgroup, Joe doesn't need to require that the company reach certain creative benchmarks, he wants to. It's easier, though, to tell yourself that you don't have a choice in the matter and that the decision is made out of need rather than want.
This idea is perhaps best evidenced in Mutiny headquarters this episode when attempting to deal with Joe's vindictive benchmarks. Though it's easy for the crew to give Joe an updated main screen and reconfigure the community aspect to provide for offline messaging, Cameron and her employees think it's unreasonable that Joe expects them to completely reconfigure their program to run on Unix and instead spend their time concocting an elaborate screen with a dummy computer, faking an internet connection and hooking it into the house's network via coaxial cable they have laying around. The façade fails and Joe is furious, accusing them of taking him for a fool, but back at headquarters, he marvels to his boss about the ingenuity and how, to avoid doing work, essentially, Mutiny accidentally created its own Ethernet system, a recent invention that was destined to be the future of internet connections. Mutiny didn't need to circumvent Joe's requirements (as helpfully pointed out by Bosworth), it wanted to. And their hubris may just cost them the company if Westgroup seeks to acquire it, as suggested by Joe at episode's end.
We volunteer for things willingly when we see them as needs — they are requirements that will not be denied. But giving ourselves over to them leaves us vulnerable. Donna wasn't interested in voluntarily becoming a mother for the third time, but deciding to end her pregnancy leaves her vulnerable when Gordon inevitably finds out. Gordon wasn't interested in voluntarily telling his wife about his deteriorating health, but deciding to divulge that information to a fling instead will leave him vulnerable to that same wife he didn't want to burden. Cam wasn't interested in bending to Joe's will with regards to Mutiny's future prospects, but attempting to deceive him leaves her vulnerable to a Westgroup takeover. No action, need or otherwise, comes without a cost. The question for the Halt and Catch Fire crew at this point isn't whether or not they'll be forced to pay for what they've done, it's just a matter of when.
Random Thoughts
The pre-credits scenes in this episode were all sterling, with Donna's conversation with her mom and Gordon and the girls arriving in California, but nothing compares to the Mutiny guys trying to catch Cameron and Tom having sex, leading to Cam being surprised by Joe in an empty house, with Joe saying, "So this is Mutiny," by way of greeting. Stunning.
Larysa Kondracki was responsible for directing this beautiful episode. If that name sounds familiar to you, it's likely because Kondracki is having an amazing year, helming the best episode of FX's The Americans this season, "Stingers," as well as great showings on other AMC stalwarts Better Call Saul and The Walking Dead.
Though we haven't spoken about it at length, Kerry Bishé's performance as Donna this season has been absolutely spectacular and deserving of mention whenever discussing the best female performances on TV in 2015. She lends an unwavering humanity and strength to a character who could too easily become unlikable or unforgivable, and does it in such a subtle fashion that it's easy to forget about all the heavy lifting the show requires of her.
Perhaps the single most striking visual in the show's short history comes from this episode, as Donna provides the girls bedtime routine via phone, softly singing Dumbo's "Baby Mine" for her wayward family, illuminated by a single table lamp. As though that weren't enough of a heartrending visual, the choice to fade to black as Bishé quietly hums the rest of the stanza was beautiful.
Seeing Cameron and Donna sit outside a Texas Planned Parenthood in the mid '80s was likely not meant to be a political statement, but it's difficult to view it as anything but, given how Texas is locked in a continual battle to maintain funding for family-planning providers. Planned Parenthood was an important asset for women in the '80s, and it remains the same today.