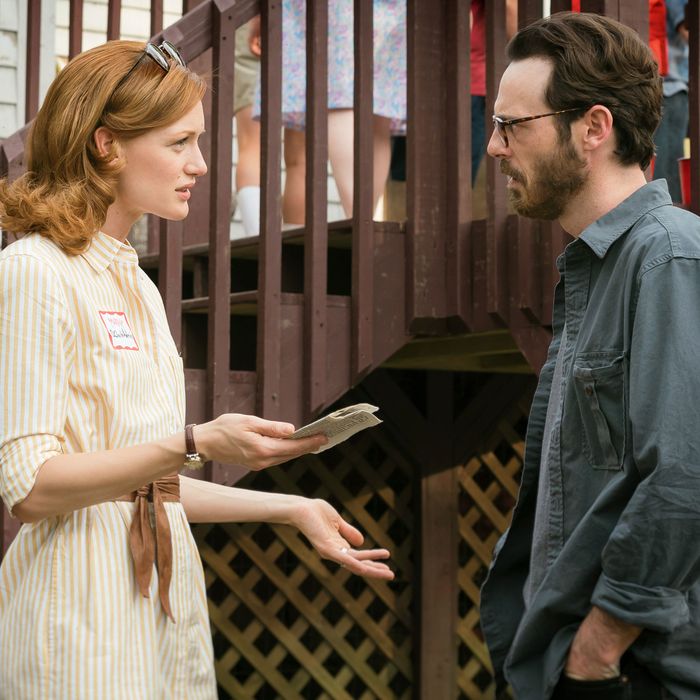 Kerry Bishe as Donna Clark and Scoot McNairy as Gordon Clark.
Photo: Tina Rowden/AMC
When the second season of Halt and Catch Fire began, Gordon Clark was on top of the world. He'd just taken a big payday, the future was bright, his family was happy, and the world was his oyster. But as each hour slipped by, so did Gordon's ability to navigate his own life. Diagnosed with mental deterioration caused by previous environmental exposure to toxins and unable to find anyone to provide moral support, Gordon has grown so distraught that his previously unknown mental illness has resurfaced, leading him to spend an entire day (and episode) wandering a parking garage searching for where he left his car.
As frustrating as Gordon's story line has been throughout the season, it's tempting to say that it's all been worth it thanks to the events of "Kali." When, in a previous episode, Donna's mother reminded her of Gordon boarding the wrong plane and flying to a completely inappropriate destination by mistake, it seemed just another cruel barb from a generally passive-aggressive woman, but now it's clear that it was a mother trying to communicate her concern over her son-in-law's mental stability. While we aren't privy to Gordon's official diagnosis, repeated references to mania suggest that he's most likely bipolar, and this realization makes his time in the parking garage all the more frightening.
It would be one thing if Gordon's confusion was caused by the damage his brain had experienced previously, but it's quite another if it's caused by a preexisting condition that has been lurking under the surface all along. We tell ourselves that we are the masters of our destiny, no matter what we face, but mental illness is often its own master and its victims merely puppets. Gordon's disorientation over where he parked, his aimless wandering through level after level of an identical parking lot, is painfully universal, to the point where the plot is basically identical to the Seinfeld episode "The Parking Garage." And it's that universality that makes it such a potent horror story. It's easy to thoughtlessly forget where you've parked, but the idea that the oversight might come from a long-dormant disease, spurring a complete breakdown, pushes it into nightmare territory.
At heart, what plagues Gordon is precisely what plagues everyone throughout the episode. Each character struggles with the idea of control, the thought that they alone hold the reins, if only they have the strength to follow through. But control is a lie, a construct, and on Halt and Catch Fire, too often control is a tool that characters use to make themselves feel better, even as the walls collapse around them.
Cameron and Joe both grapple with this idea of control in "Kali," both with regard to their respective romantic relationships as well as their career trajectories, and each makes choices they feel empowered by, even as they're left as trapped as ever by the eventual fallout. Cameron moves ahead with her plan to sell Extract and Defend in order to save Mutiny, a decision that only serves to further destabilize her relationship with Tom. Joe makes it clear to his father-in-law how upset he is by Westgroup's actions with regard to Mutiny and attempts to cut ties, only to be lured back to an investor's meeting to make nice and play the game.
The pair end up in each other's immediate orbit again, because that's where Cameron and Joe always end up. Cameron goes to Joe to give him a new copy of the Mutiny interface, of what it could have been, one that's coded with a dedication to him. In the episode, Tom suggests to Cam that she and Joe are the same, and he's not wrong. But Tom's wrong about why Cam and Joe are the same person: because neither has any idea that they are powerless, and continue to struggle to make their own way.
By the end, it's clear that no matter how proactive the players have been, life will proceed apace. Joe may have been Cam's unwitting accomplice when it comes to destroying Westnet's interface, but it was his weakness for her that allowed her the opportunity at all. And though Cam's true feelings toward Joe may be unclear (were her physical advances merely a means to an end, or does she feel the cosmic pull between them at every turn?), they still allowed her to manipulate him into doing her bidding, like it or not. But for as much as Cam feels like she has the upper hand, she's unable to force Tom to stay, either with her or the company. And as much as Joe feels as though he did the right thing by honoring Cam's efforts with the design of Westnet at the investor's meeting, it won't keep his new wife from leaving him. Control is a construct, and the series understands that when you try to burn down the world, you too often end up only destroying yourself.
Random Thoughts
This show's ratings are atrocious, even for a network that (apparently) still airs (and renews) Hell on Wheels and Turn: Washington's Spies. If you're not watching this show, particularly if you dig things like Silicon Valley, you're missing out, as Halt and Catch Fire is easily one of the best shows on television.
The finest scene from tonight's episode, the reveal of Cameron's sabotage, is scored by the Raveonette's cover of "She's Lost Control" (Trentemøller remix) and it's easily one of the best music choices the show has made so far. Highly recommend listening to it on repeat for the foreseeable future.
Poor Donna. This season started so strongly for her, and now here we are in the penultimate episode and she's left a bit adrift.
Well, it's the end of episode nine, and both Tom and Sara seem like they're down for the count, which, all things considered, doesn't seem like a huge surprise.