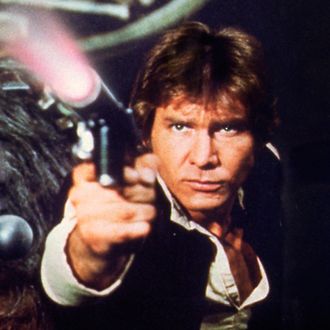 Shoot first, ask questions later.
Photo: Lucasfilm Ltd.
As has been rumored for a while, one of the Star Wars stand-alone films will tell the story of a young Han Solo: LucasFilm announced today that The Lego Movie's Phil Lord and Christopher Miller will bring the backstory of Corellia's most famous smuggler to the big screen, in a project written by the father-son team of Lawrence and Jon Kasdan. Star Wars is the latest project on Lord and Miller's increasingly crowded plate — besides shepherding the Lego franchise, they've also got a second season of Last Man on Earth, the Flash movie, a partly animated comedy for Fox, and an animated Spider-Man project for Sony. Luckily, there are two of them, so they won't have to do it all … solo.