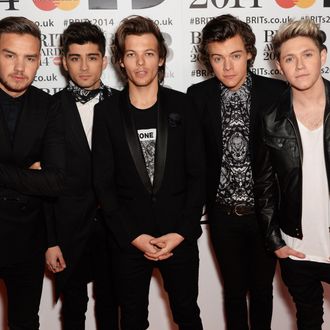 Photo: Dave J Hogan/Getty Images
One Direction, a very popular boy band that has sold a lot of records and whose posters adorn the walls of so many teenage girls, lost one of its key members, Zayn Malik, earlier this year. Fans were devastated, and theories and rumors on his return have circulated since. How's the band doing without Zayn? Harry Styles, talking to Entertainment Weekly, has some updates:
How has the production of the concert changed without him?
The only changes have been that the parts Zayn sang have been picked up by different people. Other than that, the shows have been going absolutely great.

Have you had to modify the set list at all? Malik has a big solo on "Story of My Life," for instance.
It would be pretty devastating if we took that song out. Liam [Payne] stepped up to do the high notes. He kicks them in the bollocks every show. He doesn't hold back.
So it sounds like things are going well. While you wait for your next 1D update, you can watch Amy Schumer do a pitch-perfect parody.