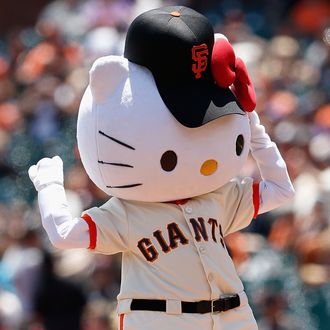 This thing is getting a movie.
Photo: Lachlan Cunningham/Getty Images
Hello Kitty, the Japanese bobtail cat slash little girl named Kitty White who has become a worldwide icon over the last four decades, is finally getting a big-screen adaptation, Deadline reports. The movie will likely be animated and have a monster budget between $160 million and $240 million. What will happen in said movie is unclear at the moment (maybe this or this), but according to Hello Kitty's Facebook page, the feline "lives in the suburbs of London with her parents and her twin sister Mimmy. She has lots of friends at school with whom she shares many adventures." She also reportedly enjoys traveling, listening to music, reading, eating cookies, making friends, and collecting cute stuff, such as ribbons, hair accessories, candy, stars (because she is an astronaut), and goldfish (because she is a psycho). Stars, they are just like us. Hello Kitty's leap to celluloid will happen in 2019. Thanks to Hollywood and its trendy streaks, this news also bodes well for Julius the Monkey, Tony the Tiger, Chester Cheetah, and the Lacoste Crocodile.