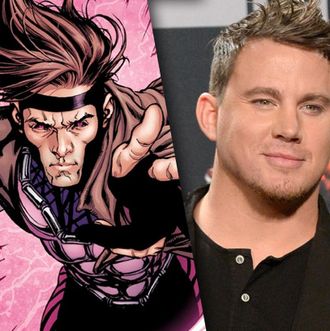 While red-blooded moviegoers are still cooling off after the hot and sultry sights of Magic Mike XXL, Channing Tatum is getting ready to do a different kind of dance: Tatum, as you know, will play the ragin' Cajun X-Men character, Gambit, in Rupert Wyatt's upcoming film of the same name, due out in October of next year. In the comics, Gambit can fling glowing, energy-charged playing cards at stuff that consequently blows up, and in preperation for the part, Tatum even tapped a real magician to help him learn how to throw cards (that's some real Method acting right there, Magician Mike).
Now more details are starting to trickle out in advance of the start of filming in New Orleans this fall. The film has an estimated budget of at least $150 million, according to Louisiana state records, and in addition, Showbiz 411 has obtained the casting call, which may offer new (if cryptic) clues for what other characters will appear in the movie and what the purportedly unique origin story will be like. So if you're a hard-core Gambit fan, see if you can decipher the cinematic destiny of these unsavory types (see the full list here):
Louis– Male, any ethnicity, 40s-50s. Elegant and intelligent. An appealing entrepreneur with an unexpected dark side.

Willhelm– Male, any ethnicity, 30s. Dangerous street criminal. Protective and loyal to his family. Intensely loyal and violent.

Nonna—Female, any ethnicity, mid 20s – 30 years old. Uptight, corporate, vicious, sexual.

Joe– Male, any ethnicity, 30s. He's a gun for hire. He is the black sheep of his family. Not from good breeding but from a working class family.

Howard– Male, Caucasian. 50s. A refined European mobster who speaks fluent French.