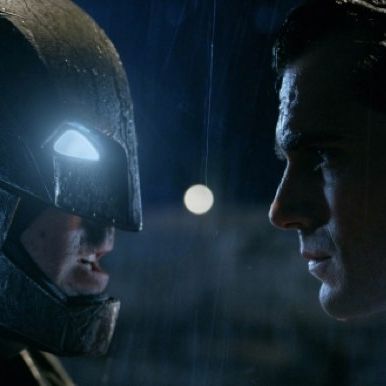 They just played the big ol' full trailer for Batman v Superman: Dawn of Justice at Comic-Con, but you didn't need to be in San Diego to take a look — it's online now! Watch below, prepare yourself for its March 25, 2016 release, and let us fill you in on a few things of note from the panel …
- Yep, that's Ben Affleck's Bruce Wayne at the scene of destruction that closed Man of Steel. That Zack Snyder–directed Superman film took a lot of criticism for a third-act battle between Superman and Zod that felled countless buildings, but what seemed like cinematic irresponsibility has been repurposed here to give Batman a reason to lock helmeted heads with Superman.
- What was Wayne doing in Metropolis to begin with? According to Snyder, "The big rule we broke is we put Metropolis and Gotham City right next to each other." Now portrayed as "sister cities across a big bay," Snyder likened them to Oakland and San Francisco. Now there's a rivalry.
- You get to see a little bit of Wonder Woman in the trailer, but she doesn't have any lines yet. Still, her portrayer Gal Gadot said at the panel, "Wonder Woman has all the strength of a superhero, but at the same time, she's very sophisticated, loving, and has a lot of emotional intelligence."
- The funniest anecdote came when Affleck described going to a costume shop for Halloween to buy a Batman costume for his son, where he ran into Christian Bale doing the very same thing. What advice did the former Bruce Wayne have for the current version? "Make sure you can piss in that suit," Affleck recalled him saying.
The dark and dour inital trailer gives us another look into the city of Metropolis, as well as glimpses into Jessie Eisenberg's Lex Luther and Jeremy Irons's Alfred Pennyworth. So much CGI!