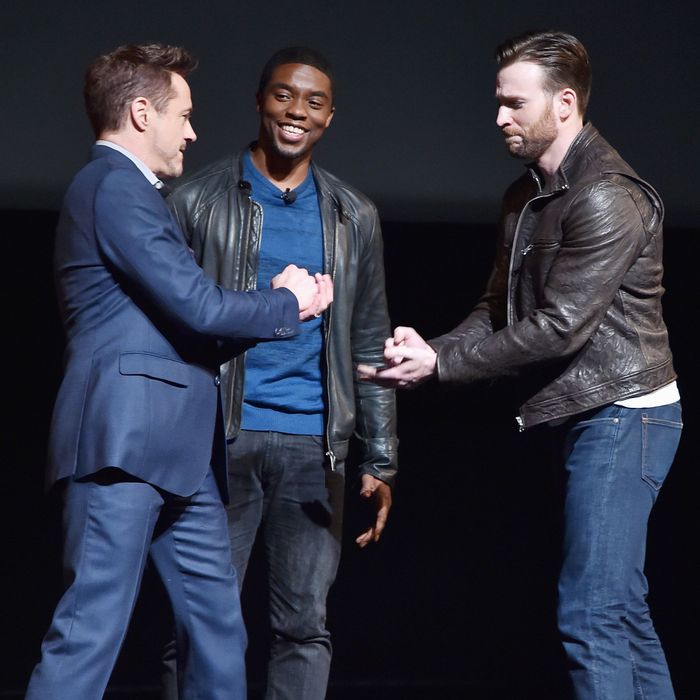 Robert Downey Jr., Chadwick Boseman, and Chris Evans onstage at Marvel's big announcement last fall.
Photo: Alberto E. Rodriguez/Getty Images
A high-profile superhero role usually becomes one of the most coveted parts in Hollywood — and whenever Marvel Studios is looking for a new actor to suit up, you can count on months of speculation and casting short lists before it settles on its man. That's why it was so surprising last fall when Marvel pulled the veil off its highly anticipated hero Black Panther with a one-two-three punch of news: The character would be getting his own movie (now dated for summer 2018), he'd be showing up first in 2016's Captain America: Civil War, and the role was already cast with Get On Up actor Chadwick Boseman. How did Marvel manage to pull off such a big announcement without any significant leaks? I asked Marvel Studios head Kevin Feige about it last week in Los Angeles.
"We were working on the Civil War draft, and we realized  we wanted to do things a little different than the comics and bring in a third party," said Feige, who had already wooed Robert Downey Jr. to reprise his role of Tony Stark in the Captain America sequel, which finds Tony butting heads with Steve Rogers (Chris Evans) over a superhero registration act. "We wanted someone who could look at this argument between Tony and Steve with fresh eyes, who wasn't siding with either of them. We started saying, 'What about someone like Black Panther?'"

At that point, Feige had planned to give Black Panther a stand-alone film sometime in the next few years, but nothing was set in stone about the character's introduction. "We knew we were heading towards a Black Panther movie, but after the second or third time you're in a Civil War meeting, sitting around a table, and someone says, 'Let's bring in a character like Black Panther,' you go, 'It should just be Black Panther.' And that's how that happened."

A decision that major would normally kick off a months-long casting search like the one Marvel recently embarked on to cast its new Spider-Man, but Feige already had a man in mind to play T'Challa, who made his comic-book debut as Black Panther in 1966 and became the first black superhero in American comics. "We just called Chadwick. He was the only choice," said Feige. Boseman learned of the fateful pick on September 25 of last year while in Switzerland, where his James Brown biopic Get On Up was opening the Zurich Film Festival. Said Feige, "He had just done the red carpet, and instead of going into the theater he went back into his car because we had a call scheduled with him, and we said, 'Have you ever heard of this character Black Panther, and do you want to do it?' And he said, 'Yes!' and it was done." No muss, no fuss.

Boseman had to keep silent on that casting for a month more, and he held up his end of the bargain awfully well: When I interviewed him two weeks after Zurich and asked whether he had any interest in playing a superhero, Boseman convinced me that he was utterly uninterested in the notion even as his reps were busy hammering out a secret five-picture deal with Marvel. The casting was announced a few days before Halloween at a big Marvel event in Los Angeles where Feige brought out Boseman (alongside Downey Jr. and Evans) and revealed a huge new slate of movies, including Black Panther, that would stretch until 2019.

"It's always gratifying to see fans respond to something, and to be able to introduce Chadwick, which hadn't leaked," said Feige. Still, even though he'd been able to pull off a massive info dump that announced Marvel's full lineup for years to come, Feige found himself with two preoccupations after he left the stage. "One was, now we actually have to deliver on all this stuff and get to work," he said, "and two, I did a tiny Q&A afterwards with some press, and even though I'd just announced ten movies — more of an upcoming slate than anyone's ever announced in history, really — all the questions were, 'What about this other character?' and 'What about this other movie?'" He laughed. "Which, again, is a testament to Marvel."