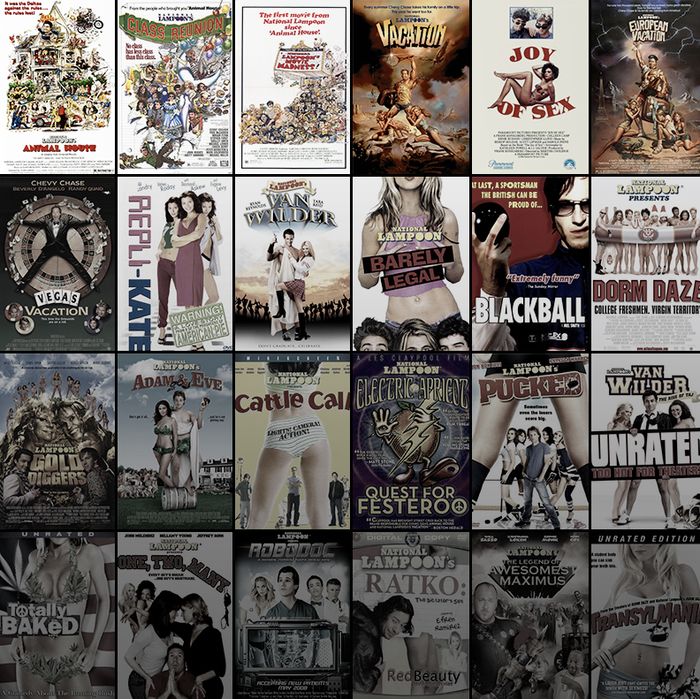 Van Wilder was a good thing for National Lampoon. It was also a very bad thing for them. When the collegiate romp was released in 2002, expectations were modest. The movie had a budget of just $5M, Ryan Reynolds wasn't yet a top-billed star, and, most damningly, the National Lampoon–branded film followed a string of flops by the once-revered nameplate: National Lampoon's Senior Trip, National Lampoon's Golf Punks, National Lampoon's Men In White. Creatively and financially, National Lampoon was on life support. Their movies sucked. Their bottom line was bleak. Their name was inconsequential. But ownership of the National Lampoon brand was in the process of changing hands around that time, which potentially brought hope of a new direction and the restoration of former glory.
Then Van Wilder was an unexpected cult success, earning nearly $40 million worldwide. That scuttled any potential course change and encouraged the new owners to double down on sophomoric humor for sex-starved frat boys, leading to a string of execrable movies like National Lampoon's Barely Legal, National Lampoon Presents Cattle Call (which is about porn, not livestock), and the abhorrent, Ryan Reynolds–less Van Wilder 2: The Rise of Taj. National Lampoon continued to make National Lampoon movies, a distinction that had long ceased to be favorable. You've never seen any of them. At least, let's hope you haven't.
One movie they did not make is Vacation, the new movie inspired by 1983's National Lampoon's Vacation. The reboot, if you want to call it that, is rife with references to its predecessor: Chevy Chase and Beverly D'Angelo appear, "Holiday Road" soundtracks the Griswold family's latest adventure, and Wally World is once again the destination. What's conspicuously missing, however, is the "National Lampoon" tag. Though it involves intellectual property from the original, the movie was produced independent of any National Lampoon involvement. The company that gave birth to the Vacation franchise had no creative input in its reboot. Even so, despite having absolutely nothing to do with Vacation, the movie is the most high-profile moment in more than a decade for National Lampoon, a once-revered brand that has been steadily cheapened into near obsolescence.
National Lampoon first appeared in 1970 as a print publication, the offshoot of a revered Harvard University comedy magazine. The brand boasted a succession of hilarious, subversive writers such as P.J. O'Rourke and Michael O'Donoghue; when National Lampoon later expanded to radio and stage shows, it further established itself with contributions from brilliant performers such Bill Murray, Harold Ramis, John Belushi, and Gilda Radner.
The jump to movies came in 1978 with the massively successful Animal House, and continued through the 1980s largely on the strength of the three Vacation movies: the original (1983), European Vacation (1985), and Christmas Vacation (1989). But by the time a fourth Vacation movie, 1997's Vegas Vacation, had begun development, the bloom was off the rose. Warner Bros., which distributed the original three Vacation films, elected to remote the National Lampoon branding from Vegas Vacation. According to current National Lampoon president Alan Donnes, the studio's decision followed a falling out among that film's producers, who included former National Lampoon editor Matty Simmons. But that was far from the only issue.
By that point, National Lampoon's increasingly spotty track record left it with little leverage when it came to title billing. A company named J2 Communications had bought National Lampoon in 1990 from an ownership group that included actor Tim Matheson, who played Otter in Animal House. At the time, National Lampoon was surviving on little more than the royalty checks from Animal House and the Vacation franchise. The magazine lost money for years, with J2 only putting out a handful of issues per year before shuttering the title for good after 1998. Meanwhile, the brand's film efforts were similarly flagging. National Lampoon hadn't been genuinely associated with a hit movie since 1989's National Lampoon's Christmas Vacation and was barely involved in some of the movies bearing its brand in the 1990s.
J2, headed by former Walt Disney and CBS executive James Jimirro, was attempting to boost revenue by licensing out the National Lampoon likeness for use on content produced outside the company. In the early going, that tactic yielded forgettable but relatively inoffensive fare such as 1993's Lethal Weapon spoof, Loaded Weapon 1 (starring Emilio Estevez and Samuel L. Jackson!), and 1995's National Lampoon's Senior Trip (Jeremy Renner's big-screen debut!).
But J2 didn't stop with movies. The company tried to capitalize on whatever appeal National Lampoon still held by slapping the name on TV specials, merchandising, and pretty much anything else it could find. J2 even explored launching a comedy-themed National Lampoon Café as well as a comedy cruise called the Laugh Boat.
Yet despite that craven approach, trademark-based revenue wasn't always enough to keep it in the black. SEC filings show that J2 lost $1.3 million in fiscal 1999 before turning a profit of $826,000 in 2000 and then losing more than $3 million in 2001. That year, a group of existing investors that included Indiana businessmen Dan Laikin and Tim Durham reached an agreement with Jimirro to buy his J2 shares and take a majority interest in the company.
Laikin advocated for J2 to squeeze more value out of the National Lampoon brand. At a 2000 shareholders meeting, he called for the company to change its name to National Lampoon, Inc. (which he would do two years later) and encouraged leadership to reach out to Lampoon alumni — former writers and producers from the glory days — "to assemble a powerful advisory committee to help restore National Lampoon to its place as the premier brand in comedy."
There is a world, a good world, in which the custodians of National Lampoon circa 2001 took a long, hard look in the mirror and at the balance sheet, recognized the brand's diminished influence and quality, and quietly ushered that iconic name into deserved retirement. That is a world in which Van Wilder never happened. But Van Wilder, which was distributed by Lions Gate, did happen, and despite mediocre reviews it went on to gross more than $38M. A month after Van Wilder's April 2002 release, Laikin and Durham's group formally took majority control of National Lampoon.
Under their ownership the brand's logo started finding its way onto a long list of truly crappy movies produced by partners who thought that the association could make up for low budgets and lower-quality standards. In just a five-year period after Van Wilder, more than a dozen National Lampoon–branded movies were dumped on the market. Aside from their awful critical reception, the common thread was sex-driven marketing, with an emphasis on implied female nudity in trailers and on posters. Groan-inducing titles such as National Lampoon's Gold Diggers, National Lampoon's Going the Distance, and National Lampoon Presents: Dorm Daze all failed to break a 0 percent score from critics on Rotten Tomatoes, with 2003's Gold Diggers called out as "stupefyingly hideous" in a Washington Post review.
Current president Donnes, who is quick to acknowledge the company's muddled legacy, says the former executives eventually began labeling some of the movies "National Lampoon Presents …" rather than the traditional "National Lampoon's…" According to Donnes, Laikin felt that the "presents" construction gave the company more distance from a substandard product. "Generally," Donnes explains, "'National Lampoon Presents' in the title means it's an even stinkier pile of shit."
Worse still, these movies ultimately returned very little revenue, leaving National Lampoon's stock price deflated — its price on the American Stock Exchange (AMEX) would drop nearly 90 percent between 2001 and 2008, from almost $8 per share to less than $1. (The stock was delisted in 2009.)
Attempting to salvage value from the company, Laikin conspired in the spring of 2008 to artificially inflate the stock price by paying individual investors to buy shares. The goal was to trick the rest of the market into thinking there was interest in Lampoon stock, thus driving up the price. And naturally, Laikin was sharing insider information about National Lampoon with his conspirators during the three-month scheme. Later that year, federal agents swarmed Laikin's Southern California home to arrest him on charges of securities fraud. In 2010, a federal judge handed him a nearly four-year prison sentence.
Durham took over as CEO after Laikin's arrest, but he also happened to be embroiled in criminal dealings. In his case, it was a massive Ponzi scheme through an unrelated company (the ironically named Fair Finance Co.), and Laikin was quick to rat on his business partner in exchange for a reduced sentence. Durham, whom Businessweek would later describe as "the Madoff of the Midwest," received a 50-year prison sentence for defrauding thousands of elderly Ohioans out of more than $200 million.
The legal and financial fallout from Laikin and Durham's tenures left National Lampoon on the verge of bankruptcy, compounded by the company having to recently pay $3 million to settle a lawsuit stemming from the Fair Finance fraud. Donnes (who became president in 2011 and doesn't have an ownership stake) says he and his business partner Jerry Daigle (a film producer who serves as CEO and has a roughly 20 percent stake) have spent four years trying to undo the mess they inherited from their predecessors. Donnes claims the company's debt is now under control and denies reports that National Lampoon is up for sale, though he would happily welcome outside investors. They still license out the brand name, which is something Donnes views as a necessary evil for a company in need of money to hire writers and develop its own projects.
A former stand-up comedian himself, Donnes has writing credits on some of the company's recent films, including 2011's National Lampoon's Dirty Movie (with Christopher Meloni starring and co-directing) and a sequel the following year that Jonathan Silverman starred in and directed. (At first glance, at least, the new movies don't seem to stray too far from the much-maligned National Lampoon–branded films from the previous decade, leaning heavily on crude sexual humor with posters that feature buxom cover models.)
Next up is a movie directed by Donnes called Dead Serious, which he describes as "Animal House in a funeral home." Backed by outside financing, it starts shooting this fall; Donnes says legendary comedian Jerry Lewis has signed on for a role after reading the script. Lewis is certainly a legendary comedy brand himself, but he's been mostly retired for years, so it's fair to wonder just how much he resonates with modern audiences.
Of course, at this point, the same can be said of National Lampoon — though the fact that an upcoming documentary about the magazine's legendary run and the brand's early years of filmmaking seems to suggest some continued interest, at least on the part of the filmmakers.
Even if Donnes's intentions are more pure than those of his predecessors, there are many who doubt the brand can ever again live up to its past. Count former National Lampoon magazine editor P.J. O'Rourke among them. In an op-ed last week, O'Rourke ripped the new Vacation and joked about the death of National Lampoon, a brand that "now seems damned to the point that its name isn't even worthy of being attached to a summer cineplex dump-fill featuring the Hangover wimp dentist as leading man and a Chevy Chase cameo."
Nevertheless, National Lampoon will benefit from Vacation. "We get a rights fee, a fixed amount," Donnes says. That's the result of a multimillion-dollar 2011 settlement with Warner Bros. over the Vacation franchise, which helped National Lampoon avoid bankruptcy. It's little consolation, especially when surrounded by billboard reminders of the divorce between National Lampoon and the universe it created, but it's enough to keep the brand afloat. As it stands, the most public link between National Lampoon and Vacation can be found at www.nationallampoon.com, where visitors will find little more than two red-band trailers for the movie.
They play on loop.