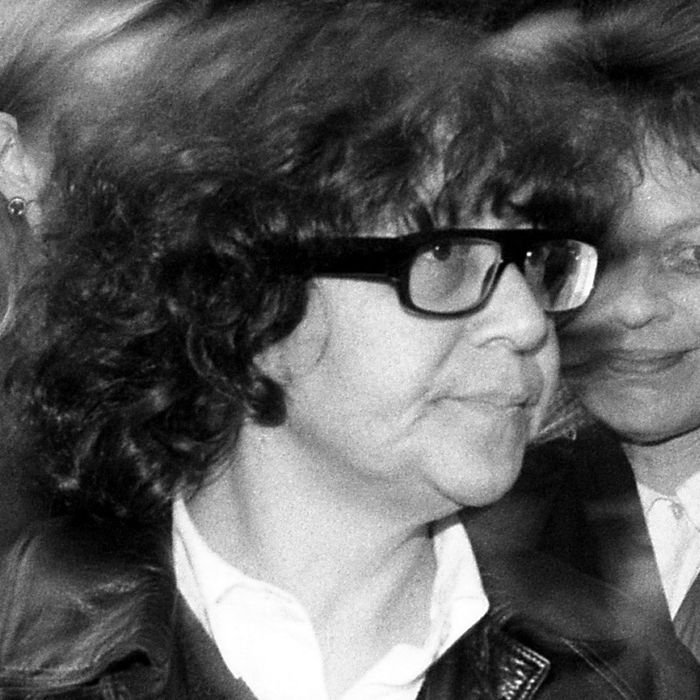 Ingrid Sischy backstage at the VH1 Fashion Awards in October 1998 in New York City.
Photo: Catherine McGann/Getty Images
The American 1980s didn't begin or end with Ingrid Sischy, but her tenure as editor-in-chief of Artforum — from 1980, when she was 27, to 1988 — made her a perpetual presence, lightning-rod gatekeeper, and immense id of artistic status, ambition, and fame. Friend of Julian Schnabel, Jeff Koons, Nan Goldin, Francesco Clemente, Peter Hujar, Jean-Michel Basquiat, Leonardo DiCaprio, Lil' Kim, Chloë Sevigny, Miuccia Prada, Sean Penn, Helmut Lang, Todd Solondz, k.d. lang, Valentino, and Veronica Webb, and nurturer and torturer of gifted writers like Rene Ricard and Lisa Liebmann, this Sarah Lawrence graduate was a poster child for the unbridled desire of the 1980s, its creative pretentiousness in its very best and most crazy forms, the one who helped integrate underground, mainstream, fashion, rock 'n' roll, and anyone who showed up and tried to make a connection. When The New Yorker called Sischy "Girl of the Zeitgeist" above an epic two-part profile by Janet Malcolm that both captured the decade's spirit and expressed the skepticism with which an ever-more-fashionable and ever-more-monied art world would come to be viewed, it was not wrong. Either way, it let the art world know it was big news and no longer just its own clubhouse kibbutz.
Yet it did undersell her. Sischy was a spark-plug in an engine with glamour and clout. Artforum wasn't some newsprint start-up. But it was still pretty belly-button-gazing when Sischy took the reins. In the 1970s, Artforum had been the site of contentious intellectual infighting among power critics and academics, career-makers vying for say in the limited art scene. This was a blood sport. Sischy kept the blood but introduced higher-profile, bigger-ticket king-making and money. At the same time she ushered the drug-addled East Village scene into Artforum, all the flashes in the pan, those who faded quickly, burned bright or burned out, the cult stars, and other hipster adolescent energies swirled. In Artforum she somehow combined all this into a slightly scary, super-hip, super-annoying-if-you-weren't-in-it Zeitgeist. I didn't make the cut but I watched slack-jawed, impressed, and covetous, as Sischy became public middleman and power-broker usher of high art, Bohemian royalty.
It was under Sischy that Artforum started looking and feeling the way it does now. Rather than thin and specialist, Artforum got glossy, bossy, exclusive, faddish, smart, and cliquish, in new ways that had less to do with academia. She made it the one magazine that everyone in the art world, even today, whether they like it or not, almost always looks at. If only for the pornlike spectacle of the ads. It was under Sischy that Artforum started getting thick with advertisements. Back then it was mostly black-and-white quarter-page ads. People I knew would take ads out. That's over. By now Artforum is fat each month with full-page color ads from megagalleries all over the world, all for thousands of dollars a pop.
These weren't only glory days. AIDS came. As with all the art world, Artforum sustained heavy loses. A pallor cast and transformed the fabulous out-of-luck stories into matters of life and death and community. Sischy was there, and responsive.
As one who wasn't in her circle, I didn't follow her career once she moved on from Artforum to become editor of Interview for 18 years. I read once that she said she wanted Interview to be a place "where people who choose the life and the world of fame can feel safe." I liked that. I know that every time I saw her anywhere, there was still this gnomic unknown firmament of something about success, not having any other choice but to be the way we are, twinkling as the little stars we might be. I will miss feeling all those mystic twinges of knowing I was seeing someone who helped so many with so few other chances. If only I had been able to stay up later, I used to think, then maybe I'd have a chance. But back then I wasn't going all-out the way all these other people were. I played it safer. Maybe Sischy and her gangs helped me understand that there was nothing to lose. Even if I still can't go out much or stay up late, I know that she lit up self-invented utopian Elysian fields.