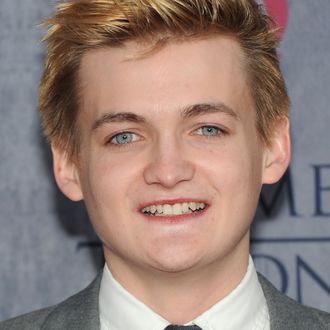 Jack Gleeson, puppet master.
Photo: Jamie McCarthy/Getty Images
If you're wondering what he-who-played–King Joffrey has been up to, look not onscreen but onstage. Game of Thrones' Jack Gleeson, as it turns out, has taken a hiatus from Hollywood to run an Irish theater company and produce a crazy comedy about cryogenically frozen bears with his BFFs. "Offers [for blockbuster action roles] came in, but I just had a lack of desire to do a big action movie. What I enjoy most is this kind of thing, where I can have fun with my friends," Gleeson told the London Evening Standard. "My real interest is in creating something from the ground up. … For the time being I get far more fulfillment from being part of a project that I have helped create and have more of a stake in."
His present passion project is a production called Bears in Space, which involves puppets and is exactly what the title sounds like it would be about. It comes from Gleeson's Collapsing Horse troupe and features him and his Trinity College pals: Aaron Heffernan, Cameron McCauley, and Eoghan Quinn. One review has referred to it as a "must-see," and another has lauded it for its "razor-sharp ridiculousness" and "dry self-awareness." Sounds fun(ny)! Some fans were worried that 23-year-old Gleeson wasn't going to return to acting when he left Thrones (he had ostensibly threatened as much). Luckily, that's not the case. And there are now adorably absurd ursine cosmonauts to prove it: Bears in Space plays at London's Soho Theatre from August 3 to 22 — giving you lots of time to plan an outrageous trip.