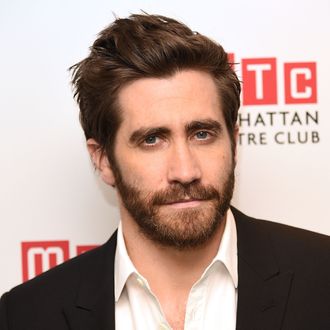 Jake Gyllenhaal.
Photo: Andrew H. Walker/Getty Images
On the heels of Southpaw's theatrical release, Jake Gyllenhaal could be gearing up for another heroic, physically challenging role. Variety reports that the actor is in early talks to star in Stronger, a based-on-a-true-story recount of the 2013 Boston Marathon bombing aftermath, told through the eyes of survivor Jeff Bauman. Gyllenhaal is reportedly the favorite to play Bauman, who famously lost both his legs and spurred the FBI's manhunt for Dzhokhar Tsarnaev. David Gordon Green is already set to direct the movie, with a script John Pollono adapted from Bauman and Bret Witter's book of the same name.
The story focuses on what happened to Bauman and his city when he woke up on April 16, 2013, after a series of life-saving surgeries. "I saw the bomber," Bauman wrote after the attack. "He took my legs, but he didn't break me. He only made me stronger." Gyllenhaal, who has an impressive history of digging into his serious, dramatic roles (recently gaining back all his Nightcrawler weight, as well as building 15 pounds of muscle, to star in Southpaw), could be a stellar fit for the part, which would give him the opportunity to conjure up an inspiring turn à la Marlon Brando in The Men and Jon Voight in Coming Home. (Good awards-season fodder.) The timeline and other personnel details for Stronger are currently under wraps.