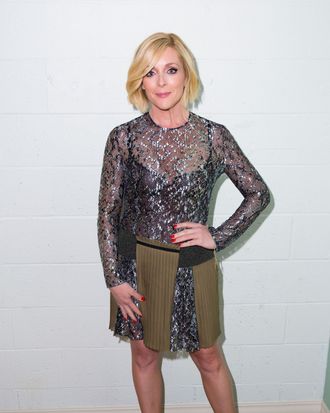 Lucky number five?
Photo: Alison Buck/Getty Images
Jane Krakowski teamed up again with Tina Fey to play the comically tragic Upper East Side housewife Jacqueline Voorhees on Netflix's Unbreakable Kimmy Schmidt, and it paid off with another Emmy nomination for best supporting actress in a comedy. Vulture talked with Krakowski about getting her fifth Emmy nomination (the previous four all came for 30 Rock) and how her 4-year-old son had no idea why she was so excited. (I mean, he's 4.)
You must be having a good day, right?
Well, I am delighted and surprised by the way my day went. I'm still in a bit of shock. I feel slightly numbed I'm so excited, but I am so thankful for the support that the show got today.
Did you talk to Tina Fey about it?
I've been texting with Tina and a lot of the people from the group. Tituss was the first person I got to speak with and before I saw his name come up on my caller ID, and before he said hello, or I said hello, all I said was, "Oh. My. God." Exclamation point.
How did you hear the news?
I was watching the webcast the moment they said Kimmy was nominated for best show; I was so excited. My phone rang and I thought they were calling to say that the show got nominated. Then, there were six people on the line yelling, "No, you got nominated." I thought I was being Punk'd. It was crazy and so unexpected and my heart is still quite rushing at the moment.
The show deserved all its nominations — it was such a blast to watch. Does any scene stand out as having been especially fun to shoot?
There's been so many, but I would say one of my favorite scenes — because I never thought I would get to do this anywhere — were the flashbacks to my childhood. When I got to the table read, it said "Flashback to Jaqueline" or it was "Jackie-Lynn at age 14 played by Jane" because really nowhere outside of the world Tina Fey and Robert Carlock can create would I get to play my own 14-year-old self, but 46 years old.
The Academy clearly appreciated that performance. Who was the first person you told?
Who I told? My son. I ran outside to tell my 4-year-old son. And I was screaming, "Mommy just got nominated for an Emmy!" And he just looked at me completely blank. No idea what that is. He's 4.
It's a pretty big deal.
He said, "Can we play now?" and I said, "Of course we can play now."