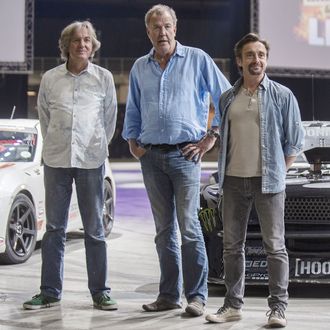 From left: James May, Jeremy Clarkson, Richard Hammond.
Photo: Stefan Heunis/AFP/Getty Images
Jeremy Clarkson has found his post-punch project: Alongside fellow ex–Top Gear hosts James May and Richard Hammond, the irascible Clarkson has signed on to host a new automotive series on Amazon Prime, which will start streaming sometime next year. It's a savvy move, contractually: The non-compete clause in the trio's old BBC contract apparently only forbade them from signing with a competing British channel for two years, and said absolutely nothing about working with the content-producing arm of an American logistics company. Meanwhile, we now know how Top Gear will hope to survive without the three ex-presenters: BBC Two has tapped Chris Evans (not that one) to host the long-running car show, with Formula 1 driver Jenson Button rumored as a potential co-host. As long as neither of them assault a producer over a lack of hot food, they should be fine.