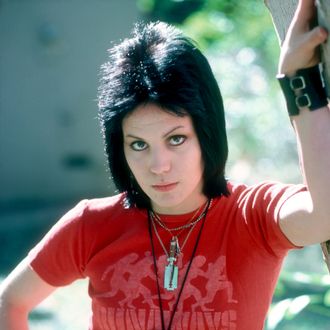 Photo: Michael Ochs Archives/Getty Images
Earlier this week, the former Runaways bassist Jackie Fox (née Jackie Fuchs) devastated the music community when she said the band's producer, Kim Fowley, had raped her in front of her bandmates when she was 16 years old. Now one of those bandmates, rock legend Joan Jett, has issued a statement in response to Fox's story, via Yahoo:
Anyone who truly knows me understands that if I was aware of a friend or bandmate being violated, I would not stand by while it happened. For a group of young teenagers thrust into '70s rock stardom there were relationships that were bizarre, but I was not aware of this incident. Obviously Jackie's story is extremely upsetting and although we haven't spoken in decades, I wish her peace and healing.
Lest anyone twist or manipulate Jett's statement, she's neither confirming nor denying the story, only saying she was unaware if such a horrid incident occurred.