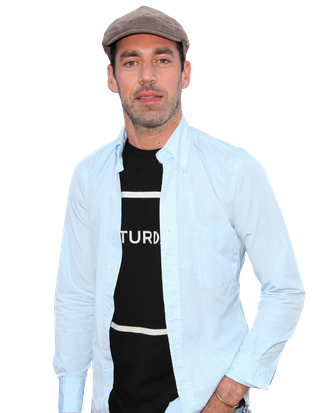 Photo: Paul Archuleta/FilmMagic
Bob's Burgers' John Roberts provided one of the high points of this year's Vulture Festival, giving a bravura in-character reading of the infamous sex-contract scene from Fifty Shades of Grey. So you can imagine our happiness when we discovered this morning that Roberts had been nominated for his first Emmy in Outstanding Voice Acting for bringing Bob's' Linda Belcher to life. (The show itself was also nominated for Outstanding Animated Program, a category it won last year.) Vulture got Roberts on the phone to briefly talk about the Emmys — a discussion that soon segued into a talk about all the ways his mom is so great. She sounds like quite a lady!
First off, congratulations! What were you doing when you found out you'd been nominated?
I was just getting up, and I actually found out from my mom! I was just hoping that Bob's would be nominated, because of last year. We were making a joke, like, what a fall that would be to not even be nominated after winning last year. I had no idea that I personally would be nominated, so that was a big shocker. And then waterworks. I just started to cry a lot for mom. It was a bittersweet moment there. I've been a Debbie Downer: My cat passed away, it's the anniversary week of my dad's death. Completely emotional.
Is your mom a Bob's fan?
Yeah, she's a huge fan. She actually came with me last year to the Emmys, and we were just talking about her coming out this year. And now she gets to pick out a dress! She's already at Macy's in a dressing room somewhere right now. She's really excited, as am I. 
Was she an inspiration for Linda?
Oh, sure. Even, like, the "Alriiiiiiight" thing. It started in the '80s. We were bumped up to first class on a flight to Las Vegas, and when the plane landed, my mom went, [as Linda Belcher] "Alright, nice landing, alriiiight!" The Brooklyn-ness comes from my mom — that New York spirit, whether it's a Jewish or Italian spirit, all those moms that were around in the '40s and '50s in Brooklyn. And the writers are just brilliant people who know how to write good comedy for her.
Is she flattered?
Yeah, she's a really good sport. Even down to my YouTube videos and stuff, lending me her clothes and stuff to wear. Even when I was a child, we'd go down to Caroline's, see Pee-wee Herman, things like that. She was really super supportive of my comedy. But she had really had no choice, because my grades were horrible.
What's your favorite memory from last year's Emmys?
Literally, winning. And holding my mom and having her next to me. I think we all want to impress our moms, on a certain level. It was really great: She got to meet everyone at Fox, all the writers. Everyone fell in love with her, of course, because she's great. And we won! It's great to be nominated, but it's even better to win. It was just a perfect night.
If you don't end up winning this year, who do you hope it is?
I'm a huge fan of everyone. They're all so good. I wouldn't be surprised if any of them won.