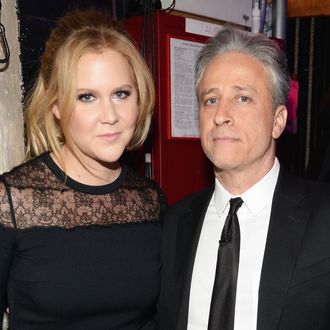 This should be good.
Photo: Kevin Mazur/Getty Images
As Jon Stewart prepares to sign off The Daily Show for good next week, he revealed the names of the guests who'll join him on his final episodes: Amy Schumer, Louis C.K., and Denis Leary are all set to send Jon off before his August 6 finale. Recently, Stewart called both Leary and Louis two of his favorite guests because "I get to not work [and] fuck around with them for five minutes," since they're his friends. (Stewart recently performed stand-up for the first time in years following a set from Louis.) Leary himself tweeted earlier this month that he'd be a guest on The Daily Show on August 4 for "the final 'Go Fuck Yourself' with a 40 person choir." Details of Stewart's final show are, of course, a mystery — but we do know it'll air for an hour after a marathon of memorable of TDS episodes.