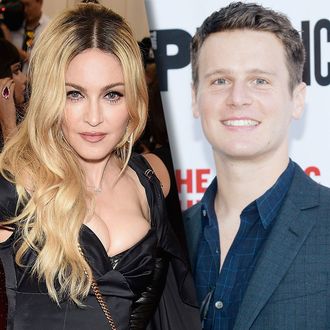 Can you taste the beef?
Photo: Getty Images
It's the scandal of the summer! Bad phone etiquette is running rampant in theaters everywhere, and the performers aren't going to let it go — not even if you're Madonna. First there was the bozo who climbed onstage at Hand to God to charge his phone; then Patti LuPone had to personally confiscate a theatergoer's phone because she was texting throughout the performance of Shows for Days; and now Jonathan Groff, who stars in Hamilton, for which previews begin July 13, is calling out Madonna for her bad behavior. During the show's run at the Public, Hamilton creator and star Lin-Manuel Miranda personally banned Madonna from attending again because she spent that time on her phone. Her PR people denied it, but Groff is here to set the record straight.
In an interview with Groff, Dot429 asks if he was disappointed that Madge got banned. "No. Because that bitch was on her phone. You couldn't miss it from the stage. It was a black void of the audience in front of us and her face there perfectly lit by the light of her iPhone through three-quarters of the show." Michelle Obama, he says, was wonderful. "[The First Lady] came backstage and hugged every crew member — the wig girl, all the costume people, every cast member. She said to us — and this is a direct quote — 'This is the greatest piece of art I've ever seen.'" So: Stop texting!