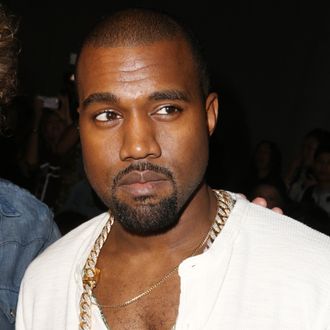 Yeezus.
Photo: Chelsea Lauren/Getty Images
After an Über-exclusive L.A. County Museum of Art event this weekend, Kanye West and Steve McQueen premiered their collaborative short film for "All Day/I Feel Like That." The nine-minute video, which was unspooled as a conceptual art piece in front of roughly 120 people, combines two of West's latest SWISH singles, set to an extended shot of the rapper dancing, running to and away from the camera, and resting against a wall. It was shot in single takes in a dockyard building near London — McQueen told the Los Angeles Times they did three takes total and used the third. The video reportedly plays on both sides of a floor-to-ceiling screen, installed in one of the museum's Broad Contemporary galleries, where four monster stereos pump out the soundtrack.
In describing the video, McQueen said it's intended to be a "microscopic portrait" of Kanye, its in-your-face quality commenting on the "gaze and the gaze following you," according to the Times. For his own part, Ye (aka Yeezus — never forget) reportedly called himself a "bad celebrity, but a pretty good artist." The vid leaked online over the weekend, after its Friday preview, and is available to view below (at least for the time being; it's also on DDotOmen).
Who knew Ye was this agile? Behold, Kanye's new "New Workout Plan":
"All Day/I Feel Like That" is on view at LACMA now through Tuesday.