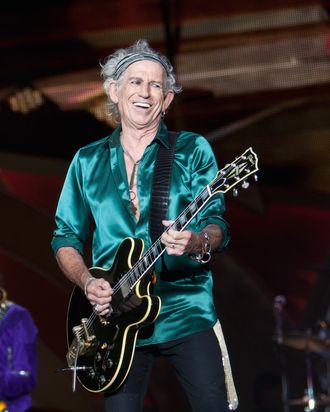 Photo: Jeff Hahne/Getty Images
Let's all applaud Keith Richards for surviving the '60s — or, well, just surviving. Today the Rolling Stones guitarist and man who nearly burned down the Playboy Mansion by setting the bathroom on fire confirmed he is set to release his first solo album in 23 years, on September 18. It's proof he is basically unstoppable.
Crosseyed Heart will be a 15-track smorgasbord featuring Keef's take on reggae, honky-tonk, blues, and rock. Special guests include jazz singer Norah Jones, who co-wrote the ballad "Illusion," and Aaron Neville, who provides backing vocals on the track "Nothing on Me." Richards wrote and produced most of the songs with longtime collaborator and drummer Steve Jordan; guitar mainstay Waddy Wachtel joined in the studio as well as other members of Richards's backing band the X-pensive Winos. The first single, "Trouble," is set to drop July 17. "I had a ball making this new record and working with Steve Jordan and Waddy Wachtel again. There's nothing like walking into a studio and having absolutely no idea what you're going to come out with on the other end. If you're looking for 'Trouble,' you've come to the right place," Richards said in a statement. His two previous solo studio albums are Talk Is Cheap from 1988 and Main Offender from 1992.
The first time Richards went solo was in 1978, when he recorded a new version of his idol Chuck Berry's "Run Rudolph Run" (Berry would later punch him in the face), around the time Jagger was starting to take his acting career more seriously. Still, according to Richards, fans shouldn't expect this new release to delay a follow-up to the Stones' A Bigger Bang from 2005. In an interview with Rolling Stone, he said he's ready to get back in the studio with Mick and the boys. Just this month, the Rolling Stones round out the band's last two gigs of its 15-date Zip Code tour, celebrating the deluxe reissue of their 1971 classic, Sticky Fingers.