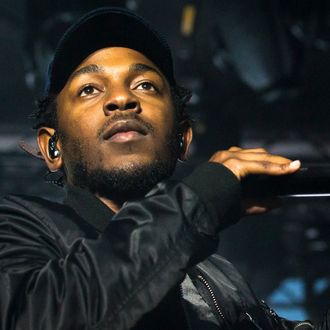 Kendrick Lamar.
Photo: Angelo Merendino/Getty Images
A freelance photographer has sued Kendrick Lamar for allegedly stealing, modifying, and using the breast-feeding artwork for "Blacker the Berry" without permission or payment, Entertainment Weekly reports. Giordano Cipriani filed the lawsuit on July 10 in New York Federal Court, claiming he originally snapped the pic of the mother and her two babies during a 2011 trip to Africa, according to Spin. "Cipriani is entitled to damages and Defendants' profits attributable to the infringement, as well as an accounting of those profits, in an amount to be determined at trial," the lawsuit reads. Pitchfork adds that Cipriani wants $150,000 for every time the photo was used, as well as coverage for all legal fees.
Here's a version of the pic, found on Cipriani's Facebook in 2013:
And here's Kendrick's single art:
Top Dawg Entertainment and Interscope Records are also reportedly named as defendants in the suit.