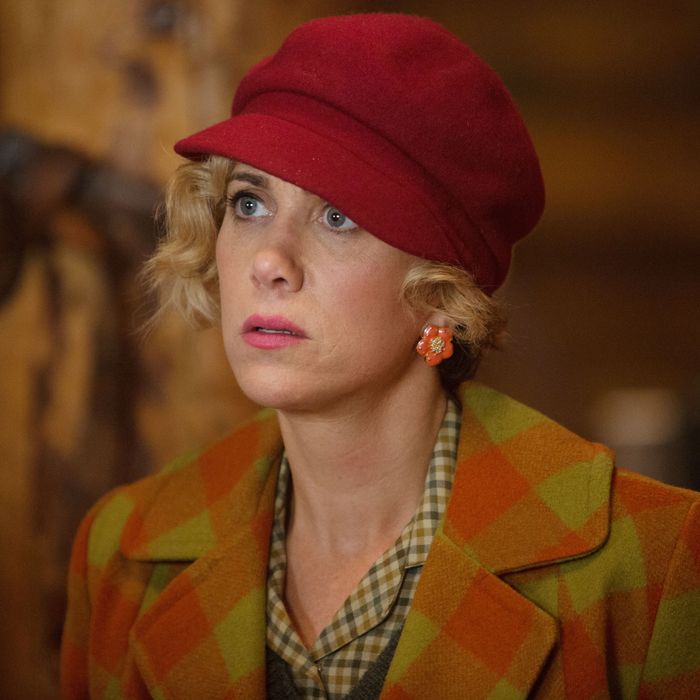 Kristen Wiig in The Spoils Before Dying.
Photo: IFC
Lust. Murder. Jazz. Dicks. (The private kind.) IFC's new mini-series The Spoils Before Dying has a surreal good time making fun of all that, along with pretentious art films, late-career Orson Welles, old-timey cop slang, and a bunch of other madcap targets. (For a sample, check out the exclusive clip below, in which the series' auteur Eric Jonrosh, played by Will Ferrell, unveils a "lost" sex scene between Kristen Wiig's jazz singer Delores O'Dell and Michael K. Williams's pianist-P.I. Rock Banyon.) Premiering on July 8, the six-parter is a follow-up to last year's similarly cuckoo mock-sweeping epic The Spoils of Babylon, and yet it only just maybe makes it into the top three oddest things Kristen Wiig has done on TV over the last year. In case you somehow forgot, Wiig also got her ya-yas out dancing to Sia's "Chandelier" with Maddie Ziegler at the Grammys in February, and then in June teamed with her Spoils co-star Ferrell for the Lifetime potboiler A Deadly Adoption.
To a lot of folks, though, anything Wiig makes between now and the 2016 release of the Ghostbusters reboot is all prelude, which is a shame because she's been on one of the most purely wacky and free-spirited runs in recent memory. (Remember when she showed up as Daenerys on Fallon in April?) During an off-day from shooting Ghostbusters, the actress explained — sort of — what she's been up to lately, her reaction to all the Ghostbusters attention, and what, exactly, was going on in that Lifetime movie.
So you've just started on Ghostbusters, right?  
I think it's been eight days, yeah. It's been so great working with everyone so far. So, so fun.
I'm not sure how closely you followed the response to the news that it'd be an all-women quartet of Ghostbusters, which was almost overwhelmingly positive. But there were a handful of folks who seemed to feel the casting was tarnishing their childhood memories. Were the various reactions at all surprising to you?
I don't know what people were saying, good or bad, because I don't go online and read those sorts of things. I know I'm excited by the fact it's an all-female cast, and from what little I do know, it seems like people are being supportive about it. Beyond that, I try not to pay attention.
The New York Times, among other places, suggested recently that there's a shift going on and that Hollywood is coming around to realizing that female-driven films can consistently perform at the box office. Do you see Ghostbusters as being part of a change in Hollywood's decision-making calculus? 
It's hard to comment on that. I still think we have a long way to go, but at some point it shouldn't matter if a movie is female-driven or male-driven — what should matter is if it's good.
So you don't see Ghostbusters as being part of a larger trend?
Yeah, I mean, everything is part of a greater shift, and if more people are seeing movies that star women, then that's great.
Ghostbusters is obviously a big-budget Hollywood movie, which is something that it seems like you've shied away from since Bridesmaids. Does the fact that there are so many more outlets now — places you can go to get stuff made — make you feel like you don't have to worry about finding a Hollywood movie to star in?
Well, there's been a shift there, too. There are definitely more outlets now than there were even ten years ago. With channels like HBO and Netflix, where it's sort of a mixture of TV and film, and also with the internet, it's really exciting that you don't have to decide between a TV show and a movie, and its exciting to be able to take advantage of those different options. Now, you can do a 45-minute TV show that's kind of like a film, you could do something for five minutes online, you can do a mini-series. It's great, and it gives writers and filmmakers more of a voice than they used to have.
Speaking of mini-series, The Spoils Before Dying is deeply, deeply weird. You guys are obviously playing with very specific clichés and tropes, but sort of off-angle versions of them, like the jokes are about hazy memories of French art-house movies and jazzy film noir rather than about the things themselves. Does what I just said make any sense at all?
Yeah, I think so. It's hard to be specific about the style, though, because it's made up of a combination of so many things. In the simplest explanation, you get the script, you see what what [writers] Matt Piedmont and Andrew [Steele] were implying and what they are looking for and what they're insinuating, and that included the crazy sets and costumes, and then you just kind of have to be in it and see what happens. It is a very weird world, but that also means you kind of can't go wrong. That's what I love about it — it's obviously not based in reality.
Are there any plans for a third one?
My dream would be to make one of these whenever Matt and Andrew write one. I just think it's very unique, there's nothing like it that I've seen, and it's a fun place to go for half an hour.
It seems like there's been a desire on your part to get back to comedy recently, especially after The Skeleton Twins and Welcome to Me, which had their comedic moments but were also pretty heavy. Is that fair to say?
Well, the order of the roles wasn't the result of a conscious choice.
I feel like people outside the movie business always assume a level of career-planning that people inside the movie business say is never the case.
I think people might think I go, "Oh, I want to do this kind of movie, I want to do that kind of movie," when really you just sort of live your life and read the scripts and say yes to things you really feel good about. The timing is what it is: You make a drama and a comedy and a drama, and the two dramas come out together and everybody thinks you're not doing comedy anymore. The truth is I love doing both, and if there is a comedy I'm really excited about then I'll do it, and same for the drama. I'm very grateful that people have given me the chance to do both because I enjoy all of it.
Just anecdotally, it seemed like people had a hard time figuring out whether or not A Deadly Adoption was a comedy or a straightforward drama. Was that sort of confusion part of the goal in making it?
No, it wasn't a parody at all. I think people assumed it was [a comedy] because Will and I were in it, but it wasn't.

So it was misunderstood? Mislabeled?
Well, I guess you can call it a mislabeling. I thought it was great, I was very happy with it and we had a lot of fun making it, but the goal was never to make a parody.

I know that you're working on a project that you'll eventually direct. How far along is that? What can you tell us about it?
Yes, yes, yes! We're hopefully shooting this summer or by next summer or spring, yeah, but we're just getting the script ready and putting it together. It's very exciting. I've kind of always sort of watched to see how directing is done — I did that with a lot of set jobs, you're interested to see what people are doing. I'm nervous, but I'm very excited, and I'm happy that I get to be working with [Ghostbusters director] Paul [Feig] right now and get to watch him.

What's something that you've learned from him?
That it's very important for the director to wear a suit on set.