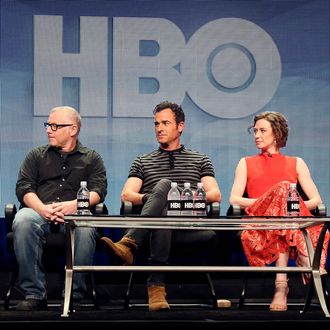 Photo: Frederick M. Brown/Getty Images
When Damon Lindelof's The Leftovers returns for its second season, there will be big changes for those left behind. Here's what we found out at the HBO Summer Press Tour session.
The show is heading to Texas
More specifically, the made-up city of Miracle, Texas, a small town that becomes a destination because it didn't experience any departures. Kevin (Justin Theroux) and Nora (Carrie Coon) travel to Miracle to see if they can rebuild their lives and find their way toward being a new kind of family. "Season one is about how a family fell apart," author and executive producer Tom Perrotta explained. "Season two is how they come back together."
So why Texas? Lindelof elaborated, "The idea of leaving the town [in upstate New York] opened up a lot of possibilities, including new characters. That was very exciting for us as storytellers." But Lindelof cautioned against calling it a reboot, saying, "This season explores the upside and downside of making quick decisions. We're so defined by our surroundings. What would it be like for Nora to go somewhere where no one knew anything about her?" "The world is actually smaller and slightly more intense," Theroux added.
"Ann Dowd is the solution to all problems"
Ann Dowd as the late Patti, the Guilty Remnant member who "dispatched herself" (Lindelof's words) will reappear, but Lindelof wouldn't say how. "We don't want to use Patty as a Shakespearean ghost. We won't say how she manifests," he said, adding: "Ann Dowd is the solution to all problems." As for the rest of the Guilty Remnant, Amy Brenneman will continue on as a series regular this season, but other than that, we won't see as much of the mysterious smoking Remnants.
And Regina King will join the cast
One new face will join the show this season: Regina King, who plays Erika Murphy, whom King described as "a doctor who works at a clinic in a small town. She's a wife and mother of two. She's light, smart, and full of life. There's something behind her smile."