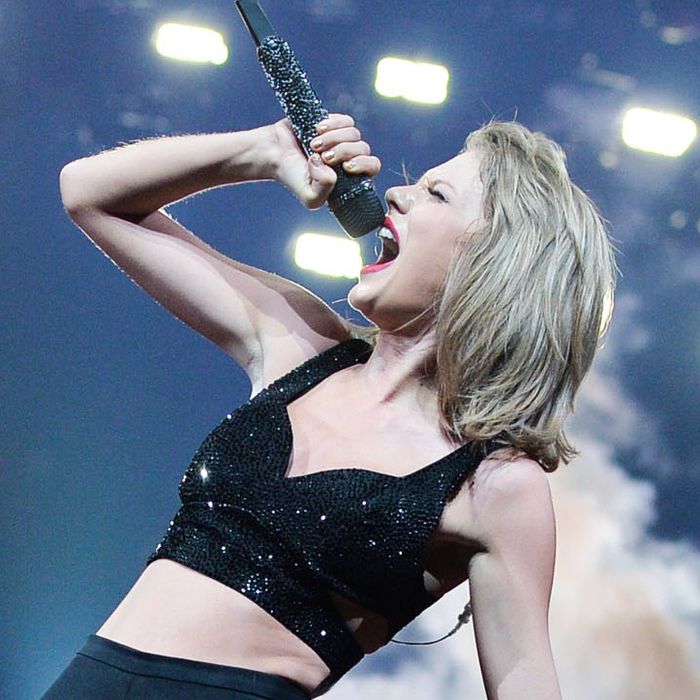 Taylor Swift performs for The 1989 World Tour Live (Photo by George Pimentel/LP5/Getty Images for TAS)
Photo: George Pimentel/LP5/Getty Images
About halfway through "Welcome to New York," the opening number on Taylor Swift's 1989 Tour, she took off her sunglasses and gave the crowd this look. It's the look the young, wide-eyed ingenue gives the twinkling skyscrapers in her coming-of-age movie right after she steps off the Greyhound, except in this case the skyscrapers were 60,000 people wearing light-up plastic bracelets that glowed varying colors and pulsed to the beat of her songs. ("Do you think Taylor is controlling these with her mind?" my friend asked me. I couldn't cite evidence to the contrary.) The look was theatrically exaggerated wonder, and there would be many more where that came from. I have never seen a pop star play more consciously — or effectively — to a Jumbotron than Taylor Swift did last night. She conducts herself in the audience of award shows as if there's always a camera on her, ready to cut away, and she performs as if her face is always in close-up. In this sense, she really is the perfect pop star for the era of the selfie — the girl perpetually giving face, acutely aware of her angles. In some sense, that's how we all live now, too.
Swift's 1989 Tour comes to MetLife Stadium in East Rutherford (and no, "Welcome to New York" doesn't have quite the same impact across the river) just a few days after 1989 surpassed 5 million copies sold in the U.S., a staggering number that makes it the fastest-selling album in more than a decade. Last night's show was a victory lap, and Swift made no bones about it: The highlight was when she brought out the U.S. Women's National Soccer Team — fresh off a victory lap of its own — to strut down the catwalk with her during a shimmery and anthemic rendition of one of 1989's best songs, "Style." (Even though Swift invited Heidi Klum to join the team onstage for reasons I may never understand, I am going to give the "Style" award to Abby "DGAF" Wambach and her pink board shorts.) At the end of the song, in a triumphant move that irked some purists, Swift grabbed the World Cup, held it high, and roared. The message was clear: Taylor Swift sees a kindred spirit in anybody else who's winning.
And that's the awkward thing about the position she's in right now. Swift built her fan base on her underdog appeal, embracing the role of the daydreaming outsider on her early hits like "You Belong With Me," but with the world-conquering triumph of 1989 and its smoothed-over sound, it's all too clear that she's cheer captain of the universe and we're her minions on the bleachers, our wrists glowing at her command. To her credit, Swift is clearly trying to be as benevolent a ruler as possible. She played for damn near two and a half hours last night, and between songs she often addressed the fans in endearingly rambly motivational speeches about self-confidence, heartbreak, and the pitfalls of comparing yourself to others on Instagram. Swift's empire is still built on the projection of earnest connection with (mostly young, female) fans; before the show began, the Jumbotron played that video where she invited 89 fans to her mother's house and baked them chocolate chip cookies. Nobody does fan service quite like Taylor Swift.
On record and onstage, Swift is handling her gradual transition into maturity with uncommon savvy. Much like "Style," reworked versions of her old hits (a brooding, almost cabaret-style "I Knew You Were Trouble," the synthy, 1989-ified version of "Love Story") are sensual without being overtly sexual. She's flanked by male dancers who are very occasionally shirtless, and at one point during an extended call-and-response version of "Blank Space" she wields a black lacquer cane in a way that makes me certain that the phrase "What if Fifty Shades was rated PG?" was used in a pitch meeting. (She even brought out the Weeknd for a fun and vaguely flirty but sort of chemistry-less duet of "Can't Feel My Face.") By and large, her crowd still skews young, female, and accompanied-by-a-chaperone; even in its disguised form, the dreamy fairy tale "Love Story" received the loudest shrieks I heard all night. The only true nod to Taylor's old, twangy aesthetic came when she played a solo acoustic version of the 1989 bonus cut "You Are in Love" — one of only two songs on which she played a guitar. I said it in my review of 1989, and I still feel it after seeing this material live: I miss old Taylor, singer-songwriter Taylor, when she was playing her own game rather than adapting her sound to the rules of everybody else's. But last night showed that she's got an almost ferociously tight command on this new sound, image, and brand.
Between costume changes, the screen showed videos of her famous and fabulous squad — Cara Delevingne, Karlie Kloss, Lily Aldridge, Selena Gomez, Lena Dunham — gushing about just how awesome it is to be friends with Taylor Swift. (Adventures! Crazy 4 a.m. burger runs! So many cats!) Much like the "Bad Blood" video, anyone with an ounce of cynicism about Swift's current image would have found it almost nauseatingly on-brand. Swift is hawking female friendship right now as though it were Diet Coke. But you know what? She's a hell of a pitchwoman. By the end of the night, I was feeling pretty good about the state of girlhood in 2015 if Taylor Swift is its most powerful spokeswoman. The message isn't perfect — though I'm sure Kloss and Aldridge are lovely people, I'm not quite sure if surrounding yourself with a squad of literal supermodels is the most effective way to cure your fan base of Instagram envy — but her heart is in the right place. Projecting a lifestyle that's more aspirational than relatable, Swift has finally ascended to a level where she's no longer believable as her fans' imaginary best friend, even though she still wants the best for them. She's transitioning into a role that's something more like their fairy godmother, or — as she continues to shed the sparkly tulle of her adolescence and focus her shrewd eyes on dividing and conquering — maybe she's on her way to becoming their Oprah.