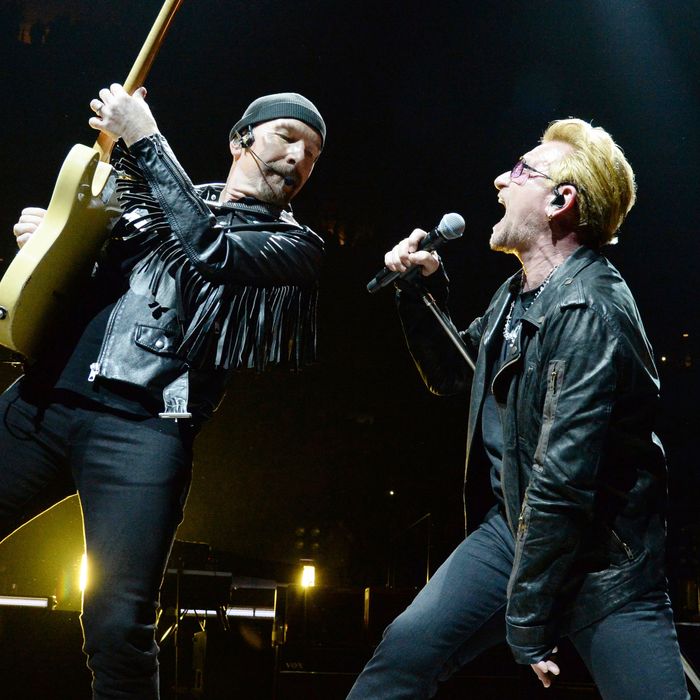 The Edge and Bono perform onstage at Madison Square Garden on July 18, 2015 in New York City.
Photo: Kevin Mazur/Getty Images
It's been a rough year for U2. There was, of course, the Songs of Innocence debacle — the lukewarm album they force-fed tens of millions of iPhone users and eventually apologized for. Then, a few months later, Bono was in a horrific Central Park bike accident, and it seemed that his recovery would be slow going at best. ("I may never play guitar again," he said in January.) But even when he bounced back effectively enough to helm the band's Innocence + Experience Tour, bad juju continued to follow them: So far the most widely circulated story about the tour came when the Edge fell off the edge of the stage in Vancouver, thus prompting some truly inevitable punch lines.
But "underdog" is a good and even refreshing look for U2, a band that makes music with so much urgency and fight in it that their music can at times ring hollow when it's sung from a comfortable spot on top of the world. None of this is to say that their reputation has really suffered over the past year — the New York leg of the tour is comprised of an astounding eight-night run at Madison Square Garden, with most of the shows sold out. True to the backwards-glancing Songs of Innocence, the show is staged as a kind of dialogue between U2 past and present (and in some ways, future; their next album will reportedly be called Songs of Experience). It's strikingly personal for an arena show, at times utilizing old home-movies and animations of a teenage Bono traipsing around his bedroom (which is adorned by posters of Kraftwerk and the Clash). It provides a lot of context for the much-misunderstood Songs of Innocence material, and the staging is particularly smart. You might not come away liking those songs any more than you did when they spammed your iPhone, but at least you'll have some really cool things to look at while they're playing.
The show begins in back-to-basics mode: The first four songs are staged starkly, with the band standing beneath a single bare lightbulb, as though they're just a couple of guys practicing in a dank Dublin garage. Significantly, two of them are from 1980's Boy: "I Will Follow" and "Out of Control," which they introduced, nostalgically, as their first-ever single. Nostalgia remains the tone as the set then blooms into something more spectacular: A gigantic, semi-transparent overhead screen suddenly illuminates above a catwalk that juts into the crowd, and throughout the night Bono and the others actually walk around inside of it, often giving off the impression that they're inside of an animated music video. It's very cool, and absolutely worth the ridiculous amount of money it probably cost. The band are comfortable enough with it to have some fun with perspective: At one point, the Edge walks inside of the screen, normal-size, while Bono's gigantic face is projected to look like he's facing him. Bono takes a sip of water and spits it in the direction that the Edge is facing — a Goliath drowning a David.
Midway through the set, in what at first seemed like a spontaneous move, the band invited onstage someone holding a sign that said "Singer With a Broken Finger." It turned out to be Jimmy Fallon, who climbed onstage and lead the band in an exuberant rendition of "Desire," as he did on The Tonight Show last year. (He also invited the Roots out to play "Angel of Harlem.") Fallon joked around about Bono's bike accident and the Edge's tumble, proving that, even if U2 aren't always quick to make fun of themselves, at least they're unafraid to associate themselves with people who will do it for them.
Bono gets a bad rap for being Mr. Earnestness, but his onstage presence is a lot more brash, punky, even sassy than you'd think. (Also worth noting: He's now a bleach-blond.) He saunters, sneers, and spits onstage, as though the ideal audience member he's got in mind is that teenage version of himself with the Clash poster on the wall.
As is often the case at a U2 show, the boldest moment of the night came when, towards the end of the set, the band played "Bullet the Blue Sky," a dissonant Joshua Tree deep cut that's become a live staple. The album version is about the United States's involvement in military conflict in El Salvador, but on subsequent tours the band has tailored it to addressing whatever political issue has them riled up at the time: religious violence, the NRA, Nazism. On this tour, in keeping with the whole "innocence and experience" theme, it becomes a dialogue between a 19-year-old version of Bono and the modern-day one we're seeing onstage, who has "100, 200, 300 times" more than he needs. The criticism, though, eventually turns outward: Bono ended the song, powerfully, at the lip of the stage, shouting to the crowd, "Hands up, I'm an American. I can't breathe, I'm an American." And though this is the kind of thing we've come to expect from U2, the moment felt genuinely confrontational. They then launched into a soaring rendition of "Pride (In the Name of Love)," as the crowd blithely pumped its fists to a song that it may or may not know is about the assassination of Martin Luther King Jr.
The spell was broken for only a moment during the encore, when Bono shouted out all of the famous people in the crowd (Scarlett Johansson, Paul McCartney, Alicia Keys) and thanked the representatives present from corporations who donate money to AIDS research (Starbucks, Apple). His reason for mentioning them, of course, was admirable, but there was also the simple fact that Bono thanked Starbucks and Apple at the end of this concert. But for once, skepticism about something like this felt built into the show. Last night was a surprisingly self-conscious exploration of the balance that U2 must strike as a group of young Dublin punks that grew into the biggest and most easily punch-lined rock band of our time, as a David that grew into a Goliath. This tour puts U2 past and present into conversation, and its saving grace is that the younger, brasher version of itself often wins out.