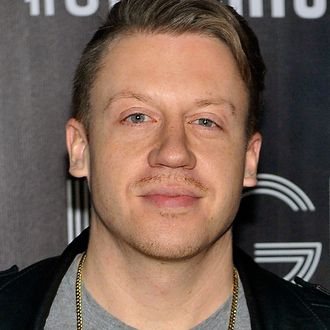 Macklemore.
Photo: David Becker/WireImage
In a new cover story for Complex magazine, Macklemore has revealed that he suffered a relapse last year. The rapper, who has been open about his drug addiction and previous 2011 relapse, admits that fame forced him back to old habits:
I held it together for a while. But, eventually, I stopped going to my 12-step meetings. I was burnt out. I was super-stressed. We weren't sleeping — doing a show every day, zigzagging all over the country. In terms of the media I was getting put into a box that I never saw for myself. The pressure and the fame — everything. All the clichés, man — like not being able to walk around, having no privacy, and from this TV appearance to this TV appearance, and the criticism, and the lack of connection, and the lack of meetings — all of that put into one pie was just … I just wanted to escape.
He says he relapsed with sleeping pills and marijuana. When his fiancée, Tricia Davis, caught him with pills hidden in a shoe at SXSW, he "sobered up for a bit" and began impulse-shopping instead. But eventually, he says, "I sat in a car, a hot boxed car — I thought that was a good idea — and got high. And then the next day it was like, What's up with the weed? And once I'm there, it's over." From that point, he says, he stopped making music with producer Ryan Lewis and started showing up high to meetings with his management. "Everyone knew, but they didn't necessarily know," he says.
Macklemore says he spent the majority of summer 2014 trying to convince himself to quit. But it wasn't until Davis became pregnant earlier this year that he says he finally decided to "grow up," and he is currently clean and sober. Macklemore says that he and Ryan Lewis are about "three-fourths" of the way finished recording the follow-up to 2012's The Heist, due out later this year.