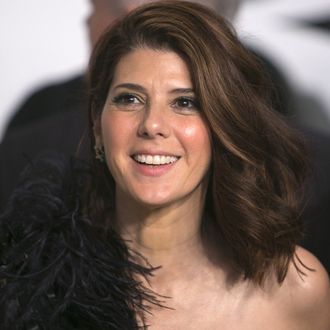 Welcome, Ms. Tomei.
Photo: Adrian Sanchez-Gonzalez/AFP/Getty Images
Anything is possible in the universe of Lee Daniels. After a breakneck first season with everyone from Courtney Love to Jennifer Hudson* to Naomi Campbell in guest roles, Oscar winner Marisa Tomei has also heard Daniels's siren call for big stars rarely seen on TV. Deadline reports that Tomei will play Mimi Whiteman (very subtle), a venture capitalist and Forbes list billionaire who is "a lover of hip hop music, social trends, high-end fashion and beautiful women" in a recurring role. She'll be joining a jam-packed season that already includes Chris Rock, Lenny Kravitz, and Alicia Keys. Game time, bitches.
* The post misidentified Jennifer Hudson.