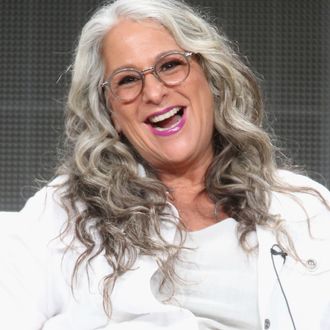 Not Ross's friend.
Photo: Frederick M. Brown/Getty Images
"A million dollars an episode is kinda ridiculous," Marta Kauffman, one of the creators of Friends, said at the Television Critics Association press tour on Tuesday. "Let's be honest, that's a lot of money." The Wrap reports that Kauffman, who runs Grace and Frankie at Netflix, was responding to a question about the cast's demands, where they famously got $1 million for each episode of the final two seasons (about $1.32 million today). "I think it's inflated. And there's something unrealistic about it. Not everybody is going to get a million dollars an episode. So I think actually what we're all doing [now] is actually more reasonable and makes more sense."
Kauffman said that the Netflix model of 13 episodes (or fewer) was because of it. "When you do 24 episodes for a network, you know, that's your whole year. You don't have time to do other stuff." Netflix doesn't share the viewing numbers for its shows, so it's hard to tell whether a show is doing well or not. For Kauffman, that's a relief, because it means that ratings aren't an issue — and consequently actors can't leverage a show's popularity to their gain. The Grace and Frankie showrunner said, "If someday, the cast says, 'We're worth more than you're offering,' then we'll deal with it then." Lily Tomlin and Jane Fonda, did you hear that?