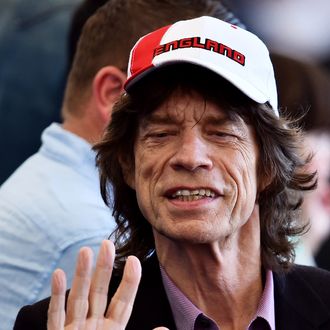 Mick.
Photo: Gabriel Bouys/AFP/Getty Images
Unfortunately, it won't be called Punk-Rock Mad Men, but it'll probably still be like that. HBO announced Thursday that you can call Martin Scorsese, Mick Jagger, and Terence Winter's drama about the '70s rock scene Vinyl, and you can expect it to roll out in 2016. The project currently has Bobby Cannavale, Olivia Wilde, Jagger's son James, Ray Romano, Andrew "Dice" Clay, and "Connecticut residents" attached to work off a pilot script from Boardwalk Empire's Terence Winter (also showrunner). It will reportedly follow "the drug- and sex-fueled music business as punk and disco were breaking out, all through the eyes of a record executive trying to resurrect his label and find the next new sound." Deal.
Elsewhere in promising HBO updates, the network's president of programming had some good news about David Chase and Curb Your Enthusiasm. Deadline reports that Michael Lombardo has seen pages of Chase's latest series, A Ribbon of Dreams, about Hollywood's early years. "He showed us two hours' worth of material, and I trust I'll see more by the end of the year. I think he has something really unbelievable, but we have to figure out if it is a limited series or an open-ended series," he said at his TCA executive session Thursday. "It's really challenging to come back to television after a show like The Sopranos ... but I fully expect we'll be back up here during my tenure with David Chase and a new show."
As for Curb, Lombardo said he has glimpsed Larry David's "next season" notebook. "I don't think [Curb]'s out of his system," Lombardo said. "When he has something to say, he will come back. I certainly see this as a continuing dialogue with him — a long one, but a continuing one." Cryptic on both fronts, but thanks, HBO!