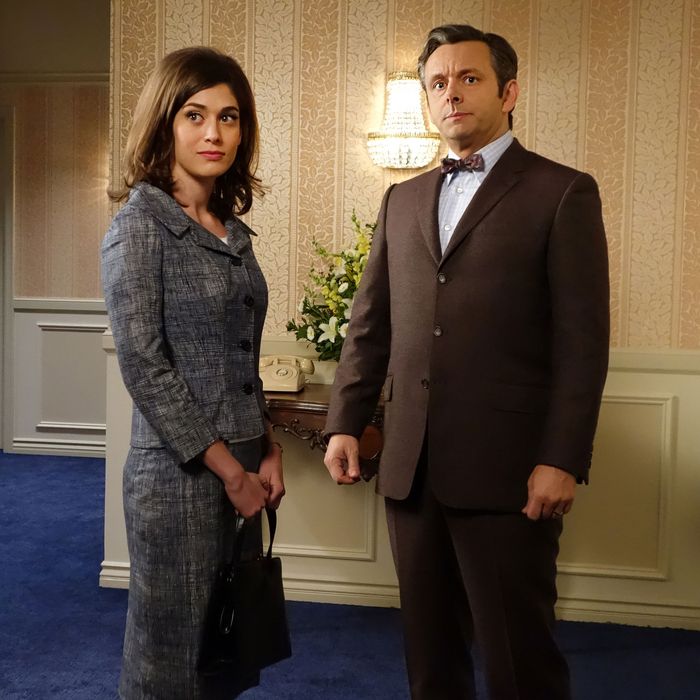 Lizzy Caplan as Virginia Johnson and Michael Sheen as Dr. William Masters in Masters of Sex.
Photo: Michael Desmond/Showtime
We've been waiting almost a year for the return of Masters of Sex (curse you, prestige-television scheduling!), and now that the season premiere is just days away, it's time to start speculating about what season three has in store. Thanks to Thomas Maier's book Masters of Sex, upon which the show is based, we don't have to speculate blindly. Maier's book (and, to be honest, William Masters's Wikipedia page) provides many potential spoilers about what lies ahead for Bill, Gini, and "the work," which is the true third co-star of the series.
Keep in mind that even though many of these events happened after 1966 (when season three will pick back up), the show has a history of playing fast and loose with the chronology of Masters and Johnson's work — and we can't yet rule out the possibility of another time-jump later in the season. Here are six story lines we may see in season three, based on Maier's account of the lives of Masters and Johnson.
A visit to the Playboy Mansion.
In 1968, Hugh Hefner took interest in the work Bill and Gini were doing with the study and spent the next several years heavily invested in their work, both personally and professionally. He became both a patron of the study and a good friend of Bill's. One of the most delightful parts of Maier's account of Bill and Gini's lives is his recounting of the time Gini spent at the Playboy Mansion (she was especially enamored with the all-night chefs who baked cookies at three in the morning), a situation Lizzy Caplan would absolutely nail. Is it premature to start dream-casting a young Hugh Hefner? Eddie Redmayne and Andrew Garfield are still a little young — perhaps Hugh Dancy.
The start of Bill's most controversial study.
Starting in 1968, Bill began work on a study that would go on to "prove" that homosexuality is a treatable, curable condition; by 1979, Bill had published his results in a book called Homosexuality in Perspective, which he promoted heavily on TV. The methodology of the study has clearly been called into question, and even clinicians who worked closely with Bill and Gini doubted whether Bill's results might have been faked. (Gini herself ultimately referred to Homosexuality in Perspective as a "bad book.") Watching Masters of Sex explore the motivations and machinations behind Bill's work here would be fascinating.
Bill and Gini's wedding.
If you were rooting for Bill and Libby to reconcile (although given Bill's disinterest and Libby's unraveling, that seems unlikely), season three likely has disappointment in store for you. By 1970, Bill's marriage to Libby had completely disintegrated, and they finalized their divorce in December of that year, leaving Bill and Gini free to marry in January of 1971. But don't expect a montage of Champagne toasts and heartfelt vows — Bill and Gini's real-life wedding was a quiet affair in the living room of a friend, officiated by a gynecologist friend of Bill's who was also a Universalist minister.
The monetization of medicine.
In the first two seasons of Masters of Sex, money was never a motivation for Bill — it was a problem, leading him from hospital to hospital in search of funds, and ultimately forcing him to use his own income to subsidize his research work. But after the success of Human Sexual Response and Human Sexual Inadequacy, Bill and Gini's services were in high demand, and by 1972, they were charging $3,000 a couple for sex-therapy treatments. That's not a change that happens overnight — the gradual transition from doctors to businesspeople could provide lots of material for season three.
The smell of sex.
We know Josh Charles, in his first dramatic TV appearance since The Good Wife, will appear this season as Daniel Logan, a businessman working in the perfume industry who works with Bill and Gini to bottle the smell of sex and market it as an aphrodisiac. Charles's character is based on Hank Walter, who collaborated with Bill and Gini to create scented lotions for use in sexual therapy. Watching Bill and Gini collaborate with another brilliant mind should be lots of fun, but what will be really interesting is seeing whether Gini and Daniel Logan become romantically involved, as Gini and Hank Walter did.
The Time cover story.
Bill and Gini's Time magazine cover story in 1970 may not have taken them fully mainstream — some would always consider the work they did taboo — but it brought them permanently into the minds and homes of Americans. The episodes at the end of season two of Masters of Sex that focused on how to communicate what Bill and Gini do to the public were really engaging; a bottle-episode-type exploration of the creation of the cover story that made them household names could be very compelling.