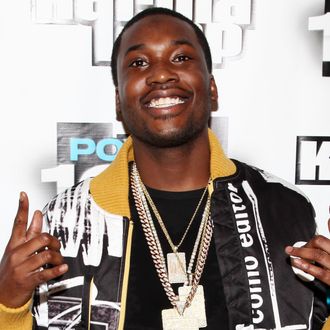 Meek "Wanna Know" Mill.
Photo: Taylor Hill/Getty Images
Although he made us wait for a response, Meek Mill did give us something (read: better late than never). The song is called "Wanna Know," and Meek is, in a word, inquisitive. He either really wanted to take advantage here of the there-are-no-dumb-questions mantra, or he really wanted to make a dis track that resembles a "Really?!?" segment from SNL. For example: "I just wanna know, if you ain't write that running through the six shit/ Tell us, who the fuck Quentin out here running through the six with?" Good question. "I just wanna know/ Was it Quentin Miller, was it Usher, was it Denzel where you got your flow?" Good question. "You know you fucked up, right?" Meh question. Essentially, Meek is underlining his argument that he believes Drake to be a fraud; he thinks Drake is an amalgam of the real rappers (and singers) who came before him, and he's trying to hit hard.
Take a listen, let it simmer:
Here's how Meek teased it ("Meek mill vs ghost writers"):
And here's Drake's response (already!):
For someone who took a $10,000 etiquette class, none of this is very polite. I just want to know why everybody can't get along. (Just kidding. This is kind of the best, and it's only beginning — though Meek does have some catching up to do.)