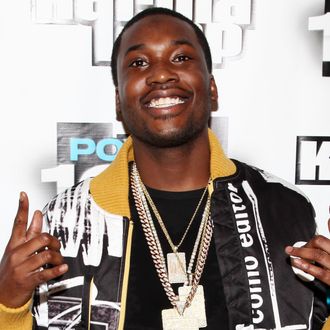 Meek Mill.
Photo: Taylor Hill/Getty Images
Perhaps inspired by Nicki Minaj, Meek Mill also decided to celebrate MTV VMA nomination day by unleashing a firestorm of truth bombs on Twitter. Why? Perhaps because it was time to stop being polite and start getting real. "I'm not with all this fake happy shit and keep my name out of it b4 I make a scene," he tweeted Tuesday night, shortly before making a scene. And what a scene it was. He began by briefly trashing one of Nicki Minaj's apparent ex-flings, then by getting real about his success, and then by really going hard after Drake and all the allegedly lame stuff Meek says Drake does. Specifically, Meek (who captions his Instagrams with Drake lyrics) claims Drake doesn't write his own raps; he has a ghostwriter, possibly one Quentin Miller (a composer from Atlanta, credited on Drake's latest release). His complaint ultimately seems to stem — at least in part — from the fact that Drake's not tweeting or supporting Meek's new album, specifically the collab on "R.I.C.O."
Here are the highlights from Meek's Twitter feed (for the rest, visit him here):
Meek quickly caused a fan-centric ruckus on Twitter, even eliciting responses from Rick Ross (who deleted his tweet) and Roscoe Dash — neither of whom showed much support for the supposed truth-teller. Unfortunately, at time of publication Drizzy hadn't responded publicly. But Meek did post an Instagram, for all those who thought his account had been hacked:
"I'm not hacked either….. I don't change me mind!" Yep, looks like #Meekseason is in full swing.
Update: Since Meek Mill opened a can of worms about ghostwriting in rap, Drake has kept mum, only private-messaging a friend (who posted their conversation on Instagram) to say, "I signed up for greatness. This comes with it." Drake's producer Noah "40" Shebib, on the other hand, has shot down rumors that someone else writes for Drake in a lengthy series of tweets:

Around the same time, Hot 97 host Funkmaster Flex released a reference track allegedly made by Quentin Miller (whom Meek Mill implied ghostwrites for Drake) of Drake's "10 Bands":

On tour with Nicki Minaj Wednesday night, Meek Mill attempted to walk back his previous comments about Drake. (Spoiler: He just added more fuel to the fire.)