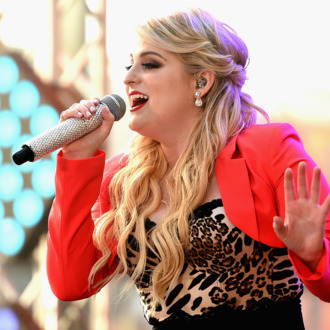 Meghan Trainor.
Photo: Dimitrios Kambouris/Getty Images
A vocal-cord hemorrhage has forced Meghan Trainor to postpone at least two of her MTrain Tour concerts until further notice. The singer announced the disheartening news via social media late Thursday, noting that she's seeing doctors in New York and currently unable to make noise. "I want to cry but can't cuz it will hurt more," she told her fans, via iPhone, in an Instagram video. "I'm sorry megatronz I will make it up to you I promise." Trainor had a kick-off show coming up in Atlantic City (July 3), as well as one in Connecticut (July 4), but her doctors have told her she needs "complete vocal rest until they are healed." As People points out, the young musician has had similar trouble before: She was forced to rest for roughly two months last year while recording All About That Bass because of polyps on her vocal cords. Let's hope this will be a speedier recovery.

Here's the video she made for her fans (who, thankfully, have been mostly understanding and supportive — they even made her a get-well hashtag):
And here's Trainor's full statement, regarding the injury:
All tickets for the Atlantic City show will be valid for a rescheduled date, according to the Press of Atlantic City. It's unclear at the moment what will happen with the Connecticut concert as well as the rest of the two-month-plus tour slate. For now: Get better soon, MTrain!