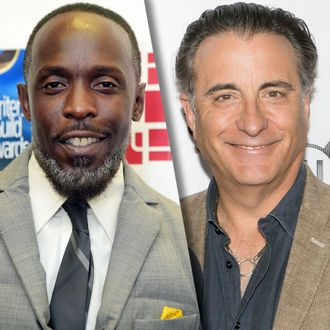 Williams (left) and Garcia.
Photo: Getty Images
According to The Wrap, Andy Garcia and Michael K. Williams are the latest residents of the neighborhood in which something strange will occur: They're the newest cast members in Paul Feig's upcoming Ghostbusters reboot. Garcia will play the mayor of New York City, while Williams is playing a character known only as Hawkins. Also joining the cast is Cecily Strong, likely as the Cecily Strong type mentioned in Feig's leaked pitch, a government flack who is "always saying terrible things about [the Ghostbusters] in press conferences and then apologizing to them behind the scenes." It is unknown if any of the three new cast members will be afraid of no ghosts.
Also, after going multiple minutes without a new Ghostbusters tweet this afternoon, Paul Feig promptly revealed the inner workings of his new proton packs. Make one at home!