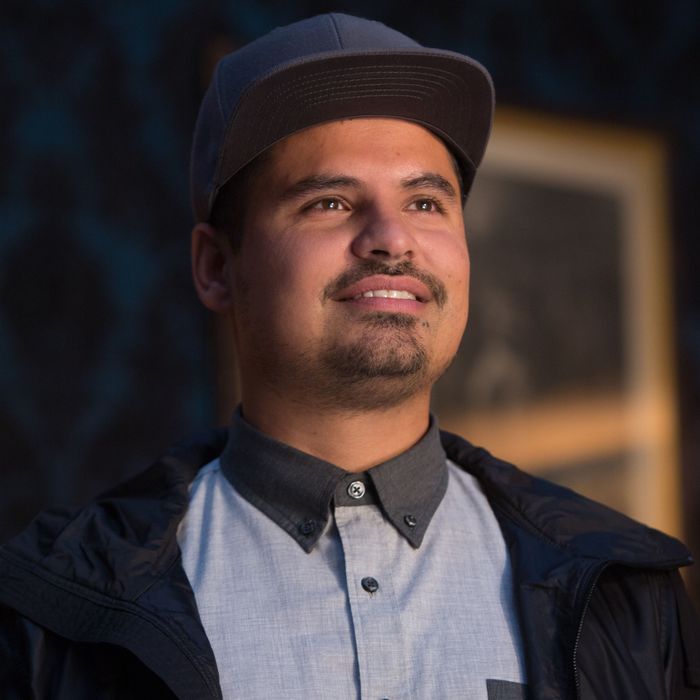 Me on my way to steal your movie.
Photo: Disney/Marvel
In the weeks before Ant-Man's release, much was made of how the latest installment of the Marvel Cinematic Universe was really a heist movie — but no one told us that the film itself would be stolen. As Luis, the motor-mouthed best friend of Scott Lang (Paul Rudd), Michael Peña has the audience eating out of his hand from his very first appearance; in my screening, the crowd eventually started to laugh before he even said his lines, just out of pure anticipation. You can tell from the glint in his eye that Peña knew he was onto something special, and it seems the MCU brain trust agreed. Like many Marvel movies, Ant-Man got a new ending in reshoots, and it's easy to imagine Kevin Feige and Peyton Reed making the decision to hand the film's final line to Peña as a tip-of-the-hat for his great work.
As Peña told The Guardian, Luis's crackerjack energy was something that took time to develop. "He was more like me at first," he said, meaning quieter, more relaxed. "But that wasn't working. Paul and I realized it would be cool to play up the Abbott-and-Costello, Laurel-and-Hardy kinda thing. Focus on the opposites." And so, drawing on the unique cadence of a Facebook acquaintance, Peña created his character's frenetic verbal style as a counterweight to Rudd's deadpan charm. Watch in this scene how he treats the words coming out of his mouth like they're a sports car, spinning them too fast around the corners one second, and then stopping on a dime the next. (Check how Peña says "professionals" — he even picks the right moments to stall out.)
It seems crazy, but Ant-Man is only Peña's third major comedy, after Observe and Report (where he played a lisping security guard) and Eastbound and Down (where he played a gonzo Mexican millionaire). It's not that he's been avoiding it (although the Guardian profile reveals his agent once flat-out told him he wasn't funny); it's just that he's been too busy doing everything else. Peña started acting in the mid-'90s to pay his mother's medical bills, but it wasn't until 2005's Crash that he truly broke out. (In a movie full of gut-wrenchingly manipulative story lines, his was perhaps the most gut-wrenchingly manipulative.)
Since then, he's been a hardworking and increasingly visible character actor, with his roles providing an unintentional look at the quality of opportunities for Hispanic actors in Hollywood. Which is to say he's usually in law enforcement (The Shield, Babel, World Trade Center, End of Watch, Shooter, Gangster Squad), and when he's not, he's often still in a uniform, either as a soldier (Fury, Lions for Lambs) or a security guard (Observe and Report, Tower Heist). He's also been a hitman (in 30 Minutes or Less), a boxer (Million Dollar Baby), a taco-truck driver (Turbo), and a fake sheikh (American Hustle). Looking at it this way, his role in Ant-Man is hardly groundbreaking — he's an ex-con who, in the movie's climax, dresses up as a security guard — but the well-deserved praise Peña's getting this week is hopefully a sign that his multifaceted talent is finally getting the recognition it deserves.