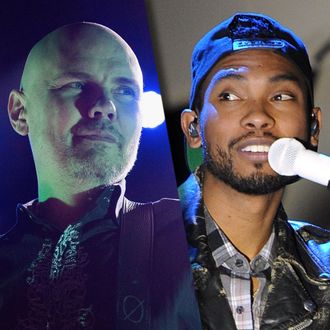 Smart move.
Photo: Paul R. Giunta/Getty Images
In the wake of the "Blurred Lines" verdict, some musicians have become gun-shy about songs that could be interpreted as more than just influenced by other artists. Sam Smith had to share songwriting credit and royalties with Tom Petty for his hit "Stay With Me," and Mark Ronson had to cough up cash to the Gap Band for the ubiquitous "Uptown Funk." But in both those cases, each artist was first accused of cribbing another artist's work before conceding credit. Now songwriters like Miguel are taking preventive measures to avoid that same fate. For the song "Leaves," off his new album Wildheart, Miguel gives songwriting credit to Billy Corgan, explaining that it felt "reminiscent" of the Smashing Pumpkins' "1979":
The guitar riff just came to me in such a subconscious way, the song literally wrote itself in minutes … It was kind of reminiscent of "1979." I was a fan of them growing up, but I never bought their albums or saw them live. It's weird how some things just sink in … Towards the end of the song when the drum programming kicks in, it's even more reminiscent. You realize it in a more straight-on way."
Miguel contacted Corgan about giving him songwriting credit, which Corgan approved. "It's all about respect," Miguel says of the precaution. "We're all standing on the shoulders of giants at this point." So is this the "Blurred Lines" Effect, or just one artist tipping his hat to another?
Plagiarism isn't new, but punishment for copying someone's "vibe" — as Pharrell argued was the case with the "Blurred Lines" verdict — does appear to have become a genuine worry for some artists. The similarity between "Leaves" and "1979" isn't so much rooted in the newer song's composition as it is the feel of the song. (Though the riff certainly isn't original.) It's Miguel's soulful experimentation with the alt-rock sound of the '90s Corgan is known for. But in a post–"Blurred Lines" era, that connection might just be all it takes to get you sued.