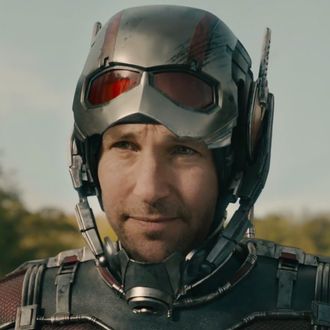 Photo: Marvel Entertainment
Paul Rudd may not have the bionic biceps of his superhero brethren, but he more than held his own this weekend: Ant-Man, the last installment of the Marvel Cinematic Universe's Phase Two, crushed the box office. The movie about the tiny hero put up some big numbers, earning $58 million, which is impressive for a film about a comic character that has yet to enter the mainstream. The film, formerly the passion project of Edgar Wright before his unceremonious exit, didn't draw the same legion as Avengers 2 or Iron Man 3, but it had a per-screen average of $15,051, right behind 2008's forgotten The Incredible Hulk ($15,810). The reviews have been warm, with moviegoers appreciating the scaled-down film after so many end-of-the-world superhero epics in recent years. It's the 12th Marvel feature to debut at No. 1.
Minions, which shattered records last weekend, dropped 57 percent this week, coming in second with $50.2 million, bringing its total domestic haul to just under $216.7 million so far. Trainwreck, the Amy Schumer–penned-and-produced rom-com directed by Judd Apatow, seduced audiences for $30.2 million. Inside Out just barely beat Jurassic World for fourth place, making $11.6 million (a cumulative $306.3 million domestic) to the dinosaur blockbuster's $11.4 million ($611.1 million). Woody Allen's newest film, Irrational Man, made $188,000 on five screens, for a healthy $37,600 per-screen.
Meanwhile, on the other side of the globe, Monster Hunt broke the Chinese record for first-day gross, wrangling the equivalent of $27.7 million. Director Raman Hui's 3-D live-action fantasy film depicts a world in which humans and monsters battle for planetary supremacy, so like Jurassic World, only for the actual world instead of an island.