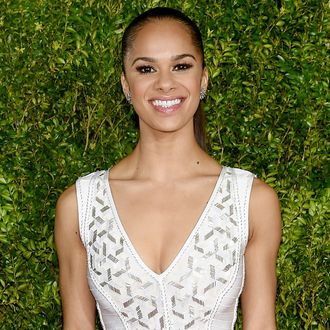 Misty Copeland will be Ivy Smith.
Photo: Dimitrios Kambouris/Getty Images
Misty Copeland's big year is about to get bigger: Time 100 cover girl and the American Ballet Theater's first black principal will make her Broadway debut in On the Town in a special two-week run from August 25 to September 6. She'll be taking over from New York City Ballet principal Megan Fairchild as the main love interest, Ivy Smith. The hope is that Copeland's run will give ticket sales a boost, which, despite good reviews, have been underperforming, most recently playing to about 70 percent capacity. The New York Times reports Copeland talked with Taye Diggs, who's set to strap on his heels for Hedwig and the Angry Inch, about acting. He simply told her, "I think you've got this." No question.