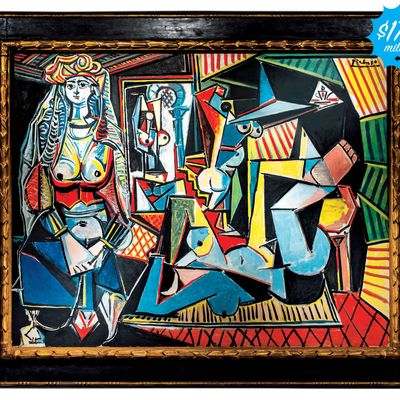 The 60-year journey from canvas to Christie's of Les Femmes d'Alger (Version "O").
Photo: Philippe Lopez/AFP/Getty Images
In May, Pablo Picasso's 1955 painting Les Femmes d'Alger (Version "O") was snapped up at Christie's for $179 million, setting a record for the most expensive artwork ever sold at auction. Naturally, the headlines focused on the sheer magnitude of the sale, which broke the old auction record of $142 million — the cost of Francis Bacon's Three Studies of Lucian Freud. The painting itself, though, has a story to tell beyond its price.
The Inspiration 
Delacroix's Les Femmes d'Alger.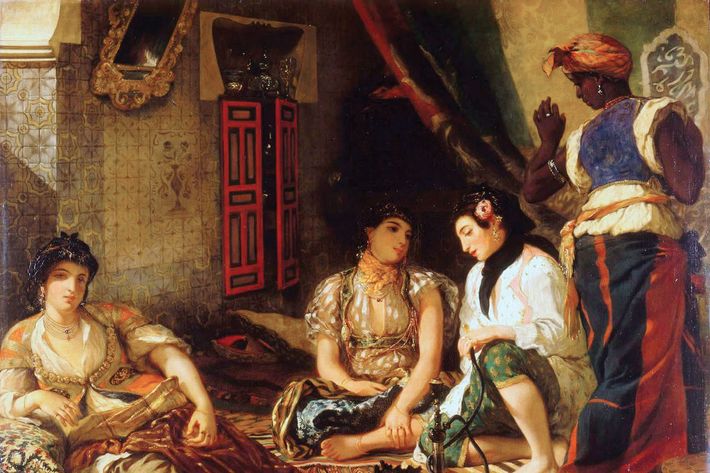 Les Femmes d'Alger (Version "O") was born out of a rivalry between Picasso and Henri Matisse. But competition can evolve into adoration, and when Matisse died on November 3, 1954, Picasso embarked upon an ambitious form of mourning: He would make a series of 15 works in homage to Eugène Delacroix's 1834 painting Les Femmes d'Alger, a work held in near-religious regard by the late artist.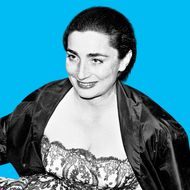 The Model 
Qui est la femme?
Picasso's mistress Jacqueline Roque is widely believed to be the archetype for the woman looking out from the canvas.
The Creation 
From the series' start to the gallery's wall.
December 13, 1954: Picasso begins the series, 40 days after Matisse passes away.
December 31, 1954: The artist has completed two canvases and a drawing.
January 31, 1955: Ten canvases are completed.
February 6, 1955: The 11th of 15 is finished.
February 9, 1955: The 12th is done.
February 14, 1955: On Valentine's Day, Picasso completes Les Femmes d'Alger (Version "O"). He keeps the painting for a few days before giving it to his dealer, Daniel-Henry Kahnweiler.
The Owners
Everyone who has bought Version "O."
On Display: The painting's first move into private hands.
Kahnweiler was a friend of Picasso's whose Galerie Kahnweiler (renamed Galerie Louise Leiris in 1940) was responsible for selling works by the likes of Braque, Léger, and Gris as well as Picasso. In 1955, though, Picasso was not selling particularly well. It took a 1960 retrospective at the Tate in London to send his prices skyrocketing — even then, the most expensive works would go for $50,000, or about $400,000 in today's dollars.
The Ganzes: Owners from 1956 to 1997
Victor and Sally Ganz were a low-key Manhattan couple who accumulated one of the country's best collections of 20th-century art. One day in the 1950s, Victor, who owned a costume-jewelry company, and Sally — a perfume seller at Bonwit Teller — popped into the Paul Rosenberg Gallery on 57th Street and saw a Picasso called The Dream. They loved it and bought it for $7,000. In June 1956, Kahnweiler came to them with a deal: the entire Les Femmes d'Alger series for $212,500.
The Anonymous Second Buyer: Owner from 1997 to 2015.
After 50 years of collecting and a decade after the death of her husband, Sally Ganz decided to sell off part of her collection at Christie's. The Dream was the 1997 event's biggest single sale, going for $48.4 million. Not far behind was Les Femmes d'Alger (Version "O"), which went for $31.9 million to London-based dealer Libby Howie. But she wasn't buying for herself — the actual purchaser remained anonymous. The Independent speculated that "Howie is believed to act as agent for a Middle Eastern potentate."
The Record Sale
List price: $140 million.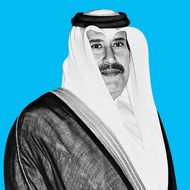 On May 11, a client represented by Christie's Brett Gorvy secured the painting. The auction house wouldn't reveal the buyer's identity, but a "Page Six" item pointed to Hamad bin Jassim bin Jaber Al Thani, the former prime minister of Qatar. The Al Thani family is one of the art world's most acquisition-hungry forces: As the head of the Qatari Museums Authority, Al Thani's daughter has paid more than $70 million for a Rothko and $250 million for a Cézanne.
Other Things Al Thani Has Bought in New York:
$90 million: The East 64th Street Wildenstein & Company headquarters (sale pending)
$47 million: An Upper East Side townhouse
$35 million: A mansion at 21 Beekman Place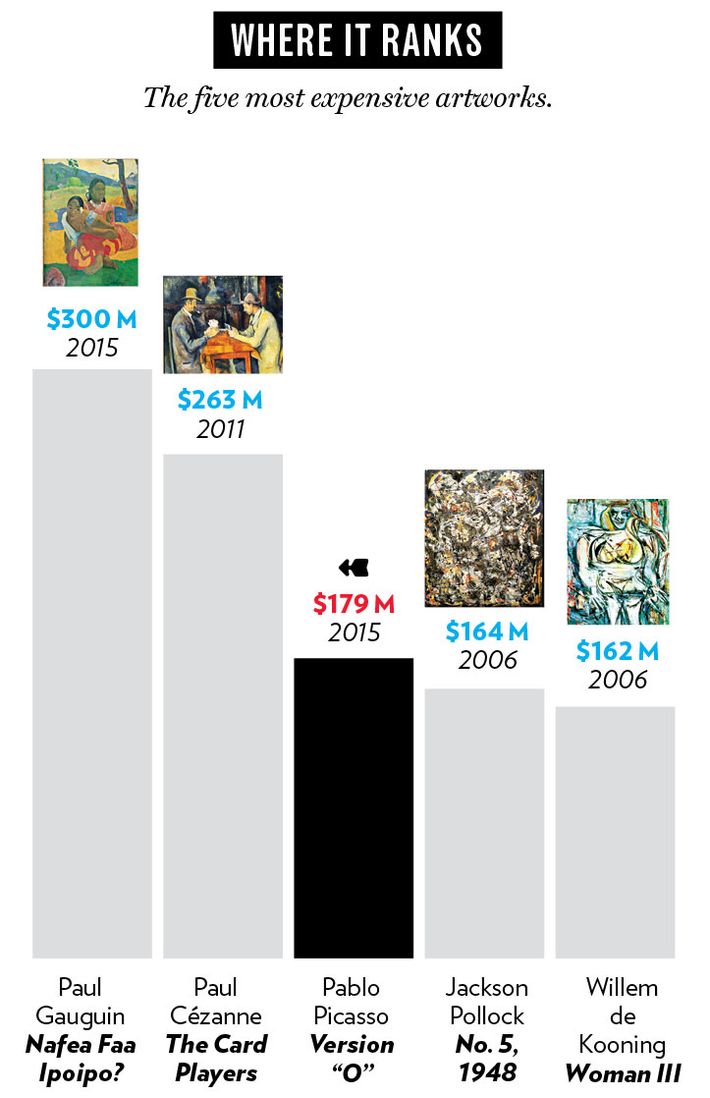 Is It Worth the Price? 
Artistically speaking, that is.
Whether any piece of art is "worth" such an exorbitant price is a question primarily for economists, but what about the painting's quality? Of the 15 canvases, Version "O" is the most fully realized of the series, and certainly the most desirable Picasso canvas not in a public collection or, prior to its sale, already stashed away in a billionaire's vault. Loic Gouzer, the Christie's director who curated the special auction that featured the sale, says that "Les Femmes d'Alger is one of those effortless masterpieces that Picasso did in the second part of his career." But Picasso's friend and biographer John Richardson doesn't place it "in the first 100 of Picasso's best paintings."
*This article appears in the July 13, 2015 issue of New York Magazine.