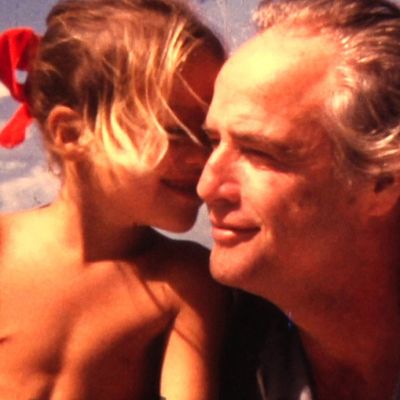 Listen to Me Marlon.
Photo: Courtesy of Listen to Me Marlon
Stevan Riley's Listen to Me Marlon is the greatest, most searching documentary of an actor ever put on film, and it's no coincidence that it's about film's greatest and most searching actor. The words are Brando's — taken from hundreds of hours of audiotapes he made over the decades as well as home movies and interview footage — accompanied by photos, thrilling film clips, a fluid procession of resonant objects from his life, and a sort of cyberlife mask of the actor speaking. What he says confirms that however crazy he became, Brando was wise to the source of his art. No one could think so believably on-camera or find more poetic and surprising ways to show the progress of those thoughts on his face. But being "in the moment" cost him. He was a damaged child, abandoned by his mother (the town drunk) and physically abused by his father. His success gave him the power to escape — into sex and food, to his property in Tahiti — but the compulsion to escape can be its own kind of prison. In the end, he understood the tragedy of his life, and Riley's film is the worthiest epitaph imaginable.
*This article appears in the July 27, 2015 issue of New York Magazine.