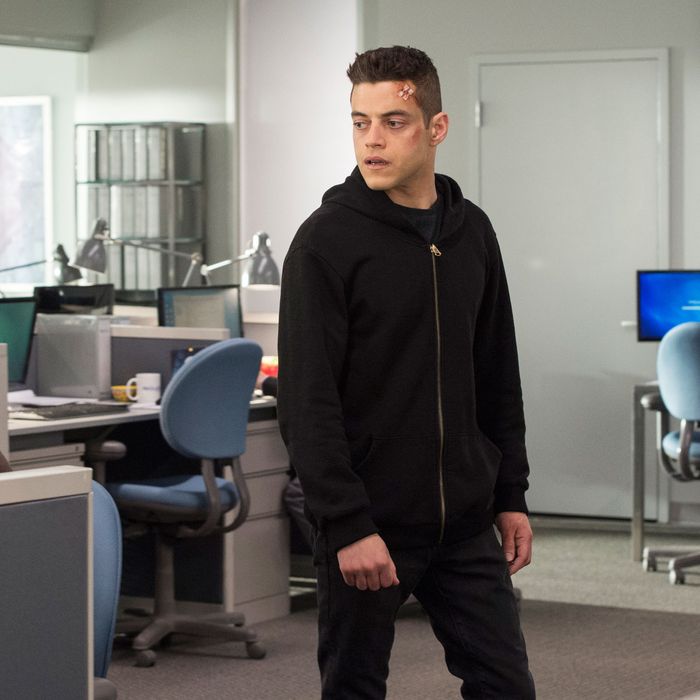 Rami Malek as Elliot in Mr. Robot.
Photo: David Giesbrecht/USA
Vulnerabilities. Insecurities. These are the peccadilloes that make us human, helping us to relate to the billions of people on Earth and not become, as Tyrell Wellick (Martin Wallström), the interim chief technology officer of E Corp (better known as Evil Corp), says, "a cold robot."
The third episode of Mr. Robot, USA Network's hacker drama with surging ratings — only AMC's Better Call Saul had a stronger scripted-series premiere this year — is all about the weaknesses we hide from others. Elliot Alderson, played brilliantly by Rami Malek, calls them "bugs."
Elliot is lying in a hospital bed with bruises about his hands and face, the aftermath of a ten-foot fall onto a rocky Coney Island beach (precipitated by a push from Christian Slater's Mr. Robot). He stares at a fly buzzing around his room and begins what eventually becomes an episode-long monologue on the nature of these bugs.
"Most coders think debugging software is about fixing a mistake," he says. "But that is bullshit … its existence was no accident. It came to you to deliver a message. Like an unconscious bubble floating to the service. Popping with a revelation you've secretly known all along … A bug buzzing its way towards me, to gum up the works, until it forces me to make a call — kill me, or embrace me."
We've been shown glimpses of Elliot's bug: the loss of his father, a longtime Evil Corp employee whose leukemia — and death — was caused by the company. We've also seen those that affect both Elliot's best friend Angela (Portia Doubleday) and Krista Gordon (Gloria Reuben), his therapist (poor choices in men), but we now begin to learn about the bugs for the other people in Elliot's orbit.
Tyrell's is a lust for power. The episode's opening scene features Tyrell practicing his pitch to be permanently promoted — his predecessor, Terry Colby (Bruce Davidson), was arrested after Elliot aided a massive hack by the secret collective FSociety, and its subsequent data dump.
Tyrell mutters a mantra, "You will be the next CTO of this company," even moments before meeting with the CEO, only to be embarrassed when told the board is more interested in another candidate.
Listlessly, he is then driven to an underpass where he, after dispensing $300 to a homeless man, proceeds to beat the man to near-death. It would be shocking if the whole encounter didn't feel so casual. The man appears to know Tyrell, asking for more money "this time," and Tyrell's security team watches the affair with a resigned look.
Sam Esmail, the show's creator, has stated in interviews how certain films have influenced his work, and the initial six minutes of "d3bug.mkv" seem like a slight homage to American Psycho. From Tyrell's early morning workout routine to his well-stocked closet of color-coordinated suits and shirts and the knockdown, Tyrell does a mean Patrick Bateman impression. Even his tie, which the CEO compliments — "Let me guess, Brioni? Great taste, as always" — is reminiscent of American Pyscho's business-card scene.
Later in the episode, Elliot continues to ruminate on bugs: "A bug's only reason for existence is to be a mistake that needs fixing. To help you right a wrong, and what feels better than that." Tyrell's CTO maneuvering is sidetracked, and he sets a course to get that power back. After some thorough Instagram stalking, he meets Anwar, the CEO's assistant, outside a gay club. He sleeps with Anwar and then exploits a backdoor in his Android to, in part, learn the name of his competitor, Scott Knowles. "You're a strange creature," Anwar tells him after sex, to which Tyrell responds, "I'm just a businessman."
The scene is the core of Tyrell, an ex-hacker who has applied that dogged ruthlessness to the boardroom. And Wallström plays him with this cool, detached look, with icy-blue eyes that occasionally flash violence. Tyrell knows how to play the game — he already got into Elliot's head, whose way-too-easy hack of Tyrell's life spooked Elliot and forced him to destroy his motherboard — and after this brief loss of control, his bug forces Tyrell to briefly scramble.
When Elliot wakes at the hospital, he is startled to find Dr. Gordon and Shayla (Frankie Shaw), his neighbor and soon-to-be girlfriend, at the foot of his bed, which he escapes after promising his therapist that he'll stop taking morphine, his opiate of choice.
However, the pledge is a canard — Elliot chose this hospital as his primary care facility because its cybersecurity department is poorly staffed and funded, which make its records easy to hack and manipulate.
He retreats with Shayla to their apartment building to find that Darlene (Carly Chaikin), a member of FSociety, has broken into his apartment. Holding up the busted lock, she tells Elliot they have a lot to discuss before he kicks her out. "I suggest you get a grip," she says.
Shayla asks, "What was [Darlene] talking about?" a clue that FSociety is actually real and not a manifestation of Elliot's paranoia. We are told in the show's premiere that Elliot is unclear if everything he sees is real. Elliot's worldview is filled with men in black suits and Evil Corp signs, so it's hard to decipher who is and who isn't imaginary. Confirmations have been slow, but so far, Shayla, Angela, and several others appear to be real, and now we can guess the same is true of Darlene.
Mr. Robot drops Easter eggs like this throughout the first three episodes so seamlessly. We are just as invested in this journey as Elliot, who doesn't freak or lose his mind when something weird happens. He lets it play out, a backseat rider to his own life.
The episode's lightest, and arguably funniest, scene is when Elliot imagines the world as if he were a normal person. Music has been so key in framing the show's scenes — a mix of classical and bleak electronic beats — but when Elliot thinks of what normal is, what that concept means to the rest of the society, the music switches to Len's "Steal My Sunshine" and Elliot essentially becomes basic.
In a voice-over, he says, "I'll never slip up like that again. I'm going to be more normal now. Maybe Shayla could even be my girlfriend. I'll go see those stupid Marvel movies with her. I'll join a gym. I'll heart things on Instagram. I'll drink vanilla-chai lattes."
In fact, he is drinking one when he tells Gideon Goddard (Michael Gill), his boss and Allsafe CEO (the company that runs cybersecurity for Evil Corp), that of course he'll accept Gideon's invitation to dinner that night. "Was he drinking Starbucks?" Gideon incredulously asks his secretary after Elliot leaves his office.
Elliot's life, though, can't be normal. At the party, Angela and Elliot reminisce how they used to "run" away together, imitating Claudia Kincaid and From the Mixed-Up Files of Basil E. Frankweiler — "Somehow when you are 8, running away can be fun," she says — when Elliot receives an alert. FSociety's data dump reveals emails confirming that Evil Corp knew about and covered up (initiated by Colby) the toxic-waste scandal that led to the deaths of both Elliot's father and Angela's mother (how the two initially met as children and why they are best friends). "My perfect maze, crumbling before my eyes," Elliot says. "Mr. Robot finally found my bug."
A switch is flicked, and now Elliot, who had been wavering on whether to join FSociety and its plan for a massive wealth redistribution, is all in. He arrives at the group's Coney Island "headquarters," slowly walking in as the four other members quickly scurry to set up his computer. He sits at his laptop, and as they crowd around him, he says, "Here's the plan." As long as Elliot believed his vulnerability was unknown to all others, he could resist the allure of FSociety's scheme, but he can't embrace his bug. He has to work through it and quash it, and he'll do so by attempting to end Evil Corp.
Additional Thoughts
We get a glimpse into Elliot's rough upbringing. Not only did his father die when Elliot was a child, his chain-smoking mother wasn't the nurturing type. Through a flashback we see Elliot crying on a bench, and his mother tells him to stop or he'll be weak, just like his father, who was "a coward" and "pathetic."
Speaking of father figures, Gideon tries so hard to be one for Elliot, constantly giving him praise — "You're such a brilliant engineer, Elliot. You should never doubt your skills," he says during one father-son-esque moment, which includes a hug, at the party. However, just as Mr. Robot informs Elliot in episode two that he "didn't commit to the sacred pact" he formed with his father, Gideon is set to betray Elliot, calling an Allsafe's data supervisor to again check on the .dat file Elliot never mentioned (which, of course, was how FSociety first gained access during the initial hack).
Joanna, Tyrell's wife (played by Stephanie Corneliussen), makes her first appearance, and it is very memorable. Tyrell returns home to find the very pregnant Joanna spread-eagle on their bed. She orders him to tie her to the bedposts with red straps and plug her mouth with a ball gag. She also is completely complicit in her husband's scheming, telling him to have his competitor and his wife over for dinner next week. Will someone be poisoned? A blackmail attempt set in motion? Joanna is just as invested in power as Tyrell.
Who cares about FitBits? After sex with Anwar, Tyrell knows how to check his pulse the old-fashioned way.
More fuel to the conspiracy that Mr. Robot is Elliot's delusion, a Tyler Durden character: Esmail had mentioned in interviews the debt his work owes to Fight Club, and last night's episode did not dissuade the theory that Mr. Robot himself is imaginary. When he confronts Elliot at Allsafe, no one notices; when they decamp to a nearby bar, the bartender's gaze never leaves Elliot's face; and no one at FSociety ever mentions Mr. Robot. It would be too convenient if Elliot is Mr. Robot, so hopefully there is a less obvious twist in upcoming episodes.
The past two episodes, Mr. Robot has been reading Leo Tolstoy's Resurrection, a novel that explored and exposed the injustice of society's laws.
After Ollie, Angela's complete doofus boyfriend, finally comes clean and tells Angela about the blackmail attempt (as well as his affair with Stella), Angela had a total boss moment. She breaks up with him, saying, "I can't be with a guy with your problem." But then she recapitulates, swiftly telling Ollie that she loves him and further emphasizing that Angela can't move past her bug.
If Elliot is Mr. Robot, that would mean the Chinese Dark Army blackmail attempt, instigated when Ollie inserted a rap CD with malware into his laptop (seriously, how did this guy ever get a job at a cybersecurity firm?), is Elliot's doing, and I am interested to see how this story line continues to evolve.