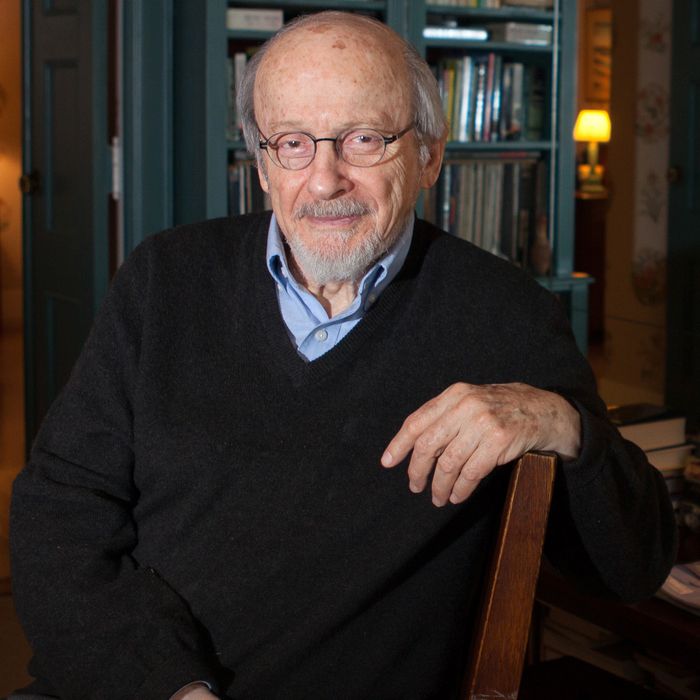 E. L. Doctorow.
Photo: Melanie Burford/The Washington Post/Getty Images
Something that struck me about the New York Times obituary of E. L. Doctorow was its emphasis on the late novelist's narrators: "Deploying, in different books, the unreliable narrator, the stream-of-consciousness narrator, the omniscient narrator and multiple narrators, Mr. Doctorow was one of contemporary fiction's most restless experimenters." Indeed, he could do it all, including "time travel," the other quality the Times emphasized, quoting a 2000 interview in which Doctorow said, "Someone said to me once that my books can be arranged in rough chronological order to indicate one man's sense of 120 years of American life." He would extend that range in 2005 with his Civil War novel The March, which won two of the year's four big literary prizes and earned the praise of John Updike, who confessed to having been a Doctorow skeptic until then, especially because of the way he made "puppets" of real historical figures in novels like Ragtime.
I was never versed enough in Doctorow's work to really earn that degree of skepticism, but I had something like it, anyway. I lost it in 2002, when his story "Jolene: A Life" appeared in The New Yorker's Winter Fiction Issue. It turned out that Doctorow the experimental historical novelist was also very good — masterful, really — at playing it straight. The story covers most of ten years of a young woman's life, from ages 15 to 25, sometime between the release of Dolly Parton's song of the same name and the invention of the compact disc. It's a litany of her sufferings at the hands of more or less awful men — she's basically cursed by her own innocence and beauty — in South Carolina (where her teenage husband's uncle rapes her, beginning a quasi-consensual affair that leads to the husband's suicide, the uncle's incarceration, and Jolene's confinement to a juvenile mental hospital), Arizona (where she marries a tattoo artist who turns out to have skipped out on another wife and baby), Nevada (where she's taken in by a kind, rich, and aging mobster who's soon offed by his angry colleagues), and Oklahoma (where she marries and bears the child of a slick local scion who turns into a psychotic wife-beater).
None of this is subtle, but somehow in Doctorow's hands it's all subtly done, and the story takes on the quality of a myth about American darkness. The narration is third-person, but mostly close to Jolene's point of view. It's almost entirely accomplished in exposition, with hardly any dialogue. Doctorow doesn't mind moving into 19th-century mode and generalizing in the manner of a down-home Jane Austen, as when Jolene's first husband discovers her sleeping with his uncle: "Well, the passion between people can never be anything but drawn to a conclusion by the lawful spouses around them …" Or after the mobster's killed and Jolene sets out to hitchhike for her own safety, from his killers and the law:
Which is how life changes, as lightning strikes, and in an instant what was is not what is, and you find yourself sitting on a rock at the edge of a desert, hoping some bus will come by and take pity on you before you're found lying dead there like any other piece of road kill.
When the story was adapted in 2008 as Jolene, the vehicle that introduced us to Jessica Chastain, these lines were given to her character and delivered as a voice-over. The preserved lines from Doctorow's story are all the film's best. Screenwriter Dennis Yares was charged with inventing almost all the dialogue, and he veers often into cliché. Aside from Chastain's glowing performance — you can sense she has better things ahead — the film's lousiness, especially its rush from agony to agony, which make it feel both slighter and more leaden than the story it sprung from, serve to highlight how well-turned its source material was. There's nothing like a bad movie to show you the power of a prose writer's talent.