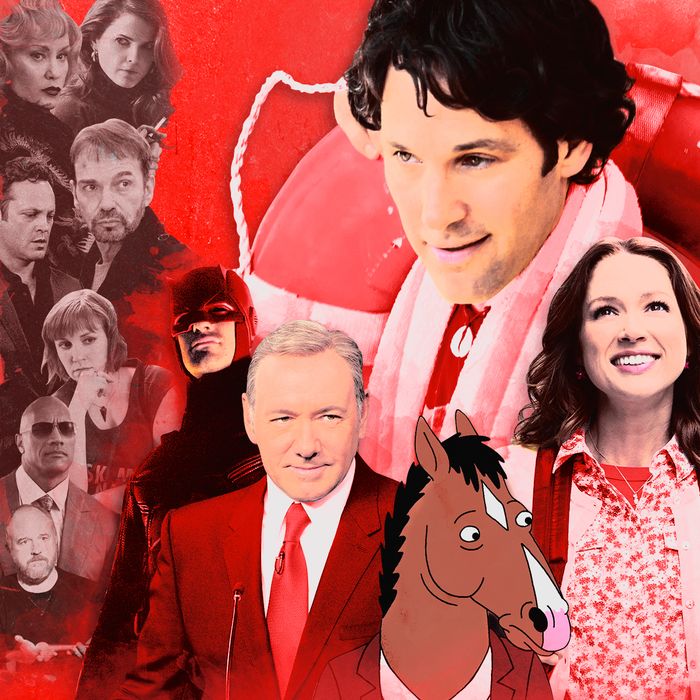 Photo: Maya Robinson and Photos by Netflix, FX and HBO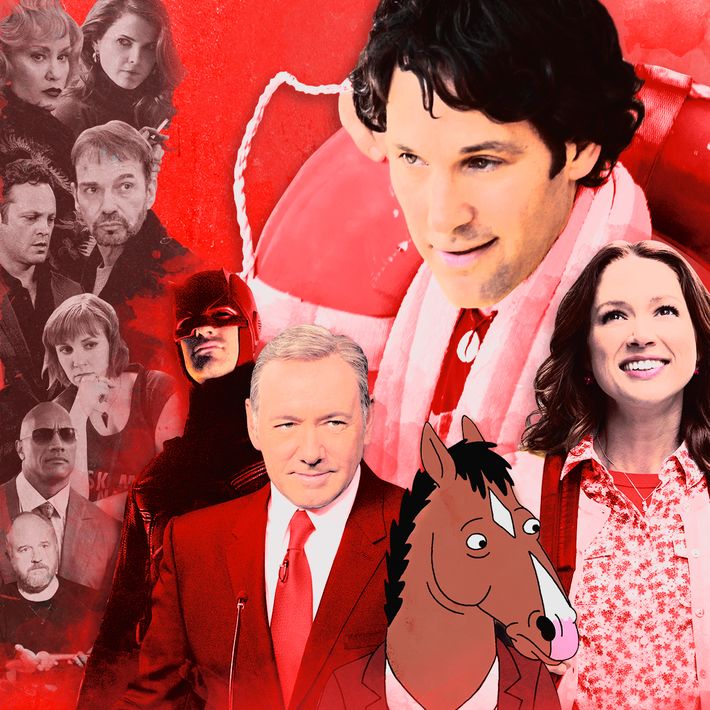 Just before the February 2013 debut of House of Cards, Netflix chief content officer Ted Sarandos revealed his game plan for the streaming service. "The goal," he told GQ, "is to become HBO faster than HBO can become us." More than a few TV-industry insiders dismissed Sarandos's statement as bluster, tough talk from a Silicon Valley outsider playing to investors and the tech media. But by at least one major metric — the size of its original programming roster — it turns out Sarandos wasn't bluffing. Barely three years after it started churning out its own programming, Netflix already has more original series in various stages of production than HBO, the longtime leader of premium cable content and a network that has been in business for over 40 years. What's more, as the chart below illustrates, Netflix next year is poised to expand its lineup to more than two dozen series, blowing past both HBO and TV's most prolific basic-cable programmer, FX/FXX. A service until recently known mostly for repurposing other people's movies and TV shows will thus achieve a major milestone: It will boast the biggest collection of first-run scripted content of any other subscription-based network in America, cable or streaming.
To be clear, having so many shows in production does not by itself stand as some sort of "game over" moment for Netflix or its rivals. HBO still maintains a massive lead in Emmy nominations, this month pulling in 126 nods versus 34 for Netflix. HBO this year also did what Sarandos predicted it would back in 2013: It "became" Netflix by launching HBO Now, the direct-to-consumer, no-cable-subscription-required clone of the mothership. And then there's the yardstick that matters most to Netflix shareholders: profitability. While Netflix last year had more subscribers and revenue than HBO, the cable veteran still outpaced Netflix in terms of overall profitability (by a margin of nearly 10 to 1, by one analysis).
And yet the rapid rise of Netflix as a source of original programming is breathtaking — and without recent historical precedent. FX and HBO, for example, had been in business for one and two decades, respectively, before they began seriously expanding their scripted offerings — and then did so at a much more measured pace than Netflix. (It should be noted that both FX and HBO stepped up the pace of development in recent years — a reaction to the disruptive force that is Netflix as well as the slew of other new entrants into the scripted game.) On the broadcast side, the (relatively) short-lived WB and UPN took about five years to build up to their peak programming rosters in the late 1990s, and then rarely produced more than 16–18 titles each season. Fox followed a similar flight path as it built up its slate in the early 1990s. The closest precedent to Netflix's scale-up can probably be found back in the earliest days of linear television, in the late 1940s and early '50s, when CBS, DuMont, and NBC invented the notion of TV networks in America and flooded the airwaves with programming (even then, many shows were unscripted or only 15 minutes in length).
To illustrate just how quickly Netflix has evolved into a programming powerhouse — and how its lineup has grown relative to its main rivals — we've put together an interactive chart documenting all of the service's scripted originals, by year, since the 2012 launch of Lilyhammer. For comparison's sake, we've also included similar charts for HBO and FX, currently the leading suppliers of first-run scripted fare in the premium and basic-cable spaces. A few ground rules:
Our chart counts only comedies and drama series that run at least five episodes, thus accounting for limited-event programs (the single season [so far] revival of Arrested Development and next month's David Simon–produced Show Me a Hero on HBO) but leaving out short-run mini-series (thus, no Casual Vacancy).
We left out series designed strictly for kids; those with crossover appeal, such as Netflix's upcoming Lemony Snicket's A Series of Unfortunate Events, are included.
We've folded in programming produced in conjunction with, or acquired from, international partners, and we've marked those shows accordingly. (Right now, these shows give a bigger boost to Netflix's overall tally, though by next year, it is still expected to have more originals than HBO or FX even when acquisitions are excluded from its tally.)
We've listed some veteran shows during years in which they didn't actually air original episodes: FX's Louie, for example, didn't have new installments last year, but it was still part of the network's roster in the minds of viewers and execs.
And two final notes: First, since Netflix, HBO, and FX haven't announced premiere dates for everything on their rosters, we've combined shows that have already debuted this year with those scheduled to launch later (in 2015, 2016, or possibly even 2017) into a single "2015 and Beyond" column. Second, Netflix, HBO, and FX will be meeting with reporters starting today for the semi-annual TV Critics Association press tour, where they'll almost certainly be revealing even more new programming. We'll update this chart accordingly.
*Correction: An earlier version of this graph left off The League, It's Always Sunny in Philadelphia, and Man Seeking Women under "FX, 2015 and Beyond," and Getting On and The Young Pope under "HBO, 2015 and Beyond."