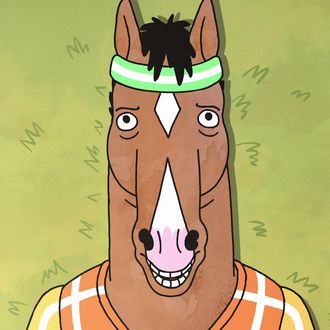 BoJack reporting for duty.
Photo: Netflix
Netflix kicks off the Television Critics Association's summer press tour this year with a packed schedule for the fourth quarter. But the biggest — and probably least surprising — piece of news is that Raphael Bob-Waksberg's depressingly funny BoJack Horseman is returning for a third season in 2016, with another 12 episodes. The regular cast will return — Will Arnett, Alison Brie, Aaron Paul, Amy Sedaris, and probably a bunch of other celebrity cameos. To celebrate, let's just tell our partners we're in Cordovia when we're actually just binge-watching television until 2016.
In other news, here's what else we can expect from Netflix later this year:
Aziz Ansari's sitcom Master of None airs November 6.
Oscar-winning director Morgan Neville (20 Feet From Stardom) has a documentary on Keith Richards called Keith Richards: Under the Influence, which will air September 18.
As we reported earlier, Chelsea Handler's docuseries would feature a series of things Chelsea Handler does, like ayahuasca, and is appropriately titled Chelsea Does. The project is directed by Eddie Schmidt and will drop "soon."
The adaptation of Craig Johnson's Longmire returns for its fourth season Thursday, September 10. 

With Bob and David, a four-episode sketch-comedy series starring Bob Odenkirk and David Cross.
Marvel's Jessica Jones, starring Krysten Ritter and David Tennant.
Sofia Coppola's A Very Murray Christmas, starring Bill Murray and everyone else in Hollywood, including George Clooney, Paul Shaffer, Amy Poehler, Julie White, Dimitri Dimitrov, Michael Cera, Chris Rock, David Johansen, Maya Rudolph, Jason Schwartzman, Jenny Lewis, Phoenix, Frederic Moulin, Rashida Jones, Miley Cyrus, and others.
Hemlock Grove comes back for its final season.

F Is for Family, Bill Burr's animated show voiced by Burr, Laura Dern, and Justin Long.
And these are the comedy specials that will air:

Demetri Martin: Live (At the Time), Friday, August 14.
Anjelah Johnson: Not Fancy, Friday, October 2.
Anthony Jeselnik: Thoughts and Prayers, Friday, October 16.
John Mulaney: The Comeback Kid, Friday, November 13.
Brent Morin, Tuesday, December 1.
Mike Epps: After Dark, Friday, December 18.