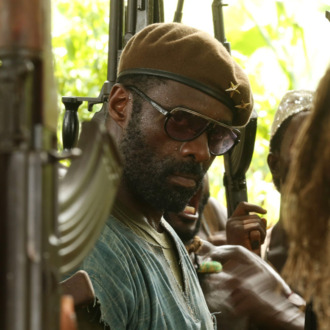 Idris Elba in Beasts of No Nation.
Photo: Red Crown Productions
Netflix is getting into the feature-film business, and today the streaming giant announced release dates for the films that it hopes will lead the company into its next awards-laden stage. First up is Cary Fukunaga's Beasts of No Nation, which stars Idris Elba as a West African warlord who mentors a young child soldier — it will debut on Netflix on October 16, the same day it opens in American theaters for a crucial Oscar-qualifying run. Following that is Adam Sandler's The Ridiculous Six, a comic Western that made headlines when its Native American actors walked off the set in protest. Six will start streaming December 11 — appropriately, two weeks before Quentin Tarantino's similarly titled The Hateful Eight — and with an awards run seemingly out of the question, Netflix gave no word about its possible theatrical release.
2016 brings Netflix's Crouching Tiger, Hidden Dragon sequel, which was pushed back to the first quarter of next year after having been previously scheduled for August. It will also be released simultaneously in Imax theaters in America and normal theaters in China. Finally, Judd Apatow's Pee-wee Herman film will premiere on Netflix in March. The streaming service also has three more Sandler films in development but declined to announce release dates for them crazy far in advance. That's one way to separate yourself from your new cinematic competitors!