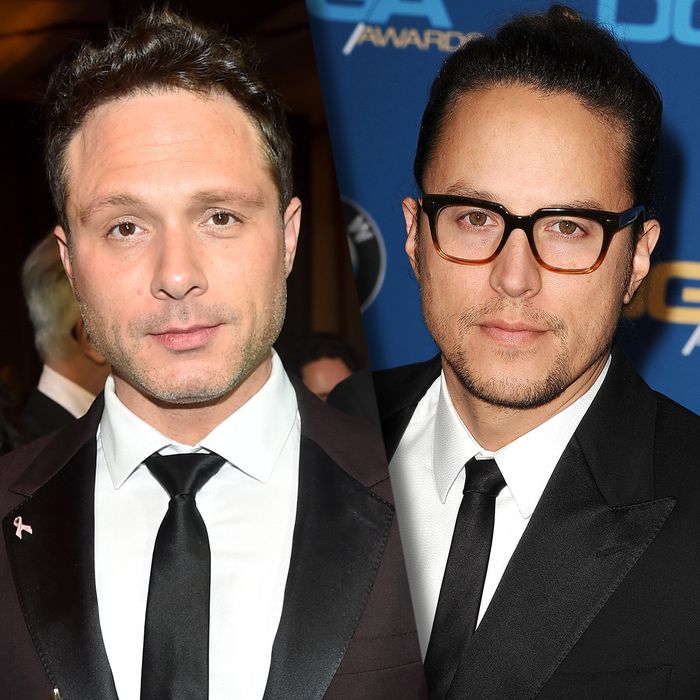 Only one can be the true detective.
On Sunday night's episode of True Detective, Ray Velcoro (Colin Farrell) and Ani Bezzerides (Rachel McAdams) visit a film set presided over by the worst person in the world: In a few scant minutes of screen time, we learned that the film's director is an alcoholic prima donna who alienated his crew and got mixed up in sex-party shenanigans that led to the death of a local politician. Oh yeah, and this horrible man just so happens to bear a clear resemblance to former True Detective director Cary Fukunaga, all the way down to his distinctive hairstyle. Assuming this wasn't just an unfortunate coincidence — and in the world of True Detective, there are no coincidences — this sequence should go down as the most passive-aggressive TV scene of 2015.
Rumors of tension between Fukunaga, who directed all eight episodes of season one, and Nic Pizzolatto, who has written every episode of the show, have swirled since before the series even aired, but the two men have kept a tight lid on exactly what happened between them. Fukunaga said all the right things after it came out he wouldn't be back for the show's second season — other projects, heavy workload — and he remains onboard as an executive producer. But judging from Sunday night's scene, it seems there's a little lingering bad blood between the two, at least on Pizzolatto's side. Why? Let's put on our terrible mustaches, gaze morosely out into the night, and do some true detective-ing!
Just like Rust Cohle and Marty Hart, we need to go back to the beginning. As the rumors from last year put it, Pizzolatto and Fukunaga had a basic clash of personalities. Pizzolatto, as anyone who's read a profile of him knows, is an intense dude; Vanity Fair saw in him "the aura of a bear or some other species of dangerous animal," and that sentence was written by one of his friends. Fukunaga is said to be more laid-back. Could the bold writer with the raging soul of Hemingway simply have gotten annoyed with the chillaxed snowboard dude? It's certainly possible, but plenty of people work alongside co-workers with different personalities without excoriating them by proxy.
Maybe their egos were a problem? Both Pizzolatto, a novelist, and Fukunaga, a film director, came from fields where they were used to being the supreme creative authority. It's not hard to imagine the two men locked in a battle of wills over who had the final say, an impression that's solidified when you read between the lines of the Hollywood Reporter cover story on Pizzolatto last summer, in which the True Detective team attempted to smooth over the rumors that the dual auteurs were at odds. Producer Scott Stevens allowed that the writer and director were "two people who want to be in charge of things," but he swore that any disagreements between the two fell well within the bounds of normal on-set behavior. Pizzolatto agreed, telling THR: "Cary and I worked together really smoothly. There was never any contention. Of course, you're going to have discussions and difference of opinion, but what matters is that everyone is working without ego toward the best realization of what we have." (Fukunaga did not comment for the THR story.)
But if Pizzolatto was so eager to bury the feud story last year, why is he taking potshots now? The answer could lie in the divergent paths each man's reputation has taken in the months since the season-one finale. After the underwhelming final installment, the wunderkind mystique fell off Pizzolatto like a heavy coat. His combative persona led to ill-advised tiffs with critics like Emily Nussbaum, particularly over the issue of the first season's female characters, and he found himself accused of plagiarizing some of Rust Cohle's best lines. Fukunaga, by contrast, got off nearly scot-free. His post-finale interviews were full of sharp, sensitive answers, and by the time the Emmys rolled around, he'd become the patron hunk of the thinking-woman's internet. For a large portion of True D's fan base, the matter was settled: Everything good about the first season was because of Fukunaga and Matthew McConaughey; everything bad was Pizzolatto's fault.
(You know what else happened at the Emmys? Fukunaga didn't thank Pizzolatto in his Best Director acceptance speech. Raise your hand if you think Pizzolatto has forgotten that.)
With Fukunaga and McConaughey gone this year, much of the preseason hype around True Detective centered on whether Pizzolatto could pull the same trick off alone, and it seems he's taken the implication personally. In the Vanity Fair profile, he seemed anxious to pin himself as the true creative spine of the show. The connection between the seasons, he said, was "Me. Crime, detectives, intimacies, ideas … but it's all just me." On Sunday night's episode, he may have shown more of himself than he meant to.