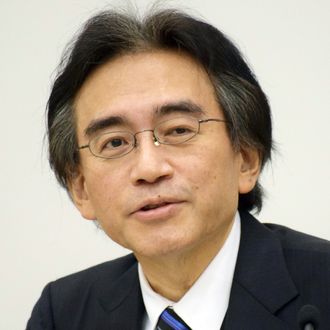 Photo: Jiji Press/AFP/Getty Images
Satoru Iwata, president of Nintendo, has passed away, according to a statement released by Nintendo:
Nintendo Co., Ltd. deeply regrets to announce that President Satoru Iwata passed away on July 11, 2015 due to a bile duct growth.
Iwata joined Nintendo out of college, becoming the company's coordinator of software production in 1983. He helped create the iconic Kirby character as well as the classic games EarthBound and Balloon Fight. He also worked on the Legend of Zelda and the early Mario games, all of which helped turn Nintendo into the preeminent video-game company. He became the fourth president of the company in 2002, replacing the legendary Hiroshi Yamauchi, who had held the position for more than 50 years. One of Iwata's major decisions as CEO of Nintendo, a position he took in 2013, was jettisoning Nintendo's participation in the usual big press conferences at the annual video-game expo E3. Instead, Nintendo held smaller, more intimate conferences that targeted different demographics.